ALPHABETICAL BRAIN® VOCABULARY
HUMANIST HUB
OF SECULAR SCIENCE STARS
ERIC KANDEL
May 9, 2022





Note: Eric Kandel has written or edited many important books about brain science and received the Nobel Prize in Physiology or Medicine in 2000. Also, he is Kavli Professor and University Professor at Columbia University and senior investigator at the Howard Hughes Medical Institute. The three linked books below should be read and discussed throughout the Humanist Galaxy.






The outlines and evaluations of three of Kandel's recent influential books for the general public are: [1] There is Life after the Nobel Prize, published by Columbia University Press, in 2022 with 110 pages; and [2] Disordered Mind: What Unusual Brains Tell Us About Ourselves, published by Farrar, Straus and Giroux in 2019 with 285 pages; and [3] Age of Insight: the Quest to Understand the Unconscious in Art, Mind, and Brain, from Vienna 1900 to the Present, published by Random House in 2014 with 636 pages; and [4] In Search of Memory: the Emergence of a New Science of Mind, published by W. W. Norton in 2006 with 510 pages, which is Kandel's memoir that won a Los Angeles Times Book Award.

In addition, Kandel's other books include, the books, Principles of Neural Science, the standard textbook in the field that he co-authored, and the book Memory: From Mind to Molecules by Larry R. Squire and Eric R. Kandel. W.H. Freeman, 1999 (235 pages) [Scientific American Library, Book 69].


Click or Tap Links to Outlines and Reviews
Book #1:
THERE IS LIFE AFTER
THE NOBEL PRIZE
AND
Book #2:
DISORDERED MIND:

What Unusual Brains
Tell Us About Ourselves
AND
Book #3:
AGE OF INSIGHT:

The Quest to Understand the
Unconscious in Art, Mind, and Brain,
from Vienna 1900 to the Present
Book #4:
IN SEARCH OF MEMORY:
The Emergence of a
New Science of Mind
Click or Tap to Return to Star List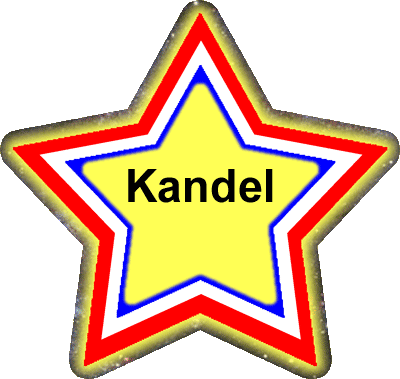 RETURN TO THE HUMANIST GALAXY
OF SECULAR SCIENCE STARS
ALPHABETICAL BRAIN® VOCABULARY
produced by
Infinite Interactive Ideas®