ALPHABETICAL BRAIN™ VOCABULARY
HUMANIST FAMILY BRAIN STUDY
DETAILS ABOUT
YOUR PREFRONTAL CORTEX
September 1, 2020
WHAT IS YOUR PREFRONTAL CORTEX?
AND WHY IS IT SO IMPORTANT?




The purpose of your prefrontal cortex (PFC) is to help you survive by providing you with the ability to make plans and achieve your goals so you can control your body's movements and achieve your mind's unique purposes.

Your PFC gives you the mental force (brainpower) to become the master of your emotions. This means that it can give you the cognitive control over your emotions, which are caused at the biological (instinctual) level by your limbic system and previous habits and which are caused at the cognitive (psycho-social-philosophical level) by your PFC.

This collaboration between your PFC and your limbic system can produce the motivation you need to make practical choices and life transforming value judgments based upon the new brain science knowledge.

Each of the 15 primary brain ideas in the following Circle of Consciousness Symbol diagram emphasized on this website can converge and merge in your mind to produce the mental force (brainpower) that is known as your "executive function."

It can empower you to create your own philosophy of life in order to meet your own unique needs because each person has differences in the "wiring" of his or her gene-driven physical brain structure now known as your connectome and his or her contextualized (socialized) mental functions now known as your mind.

In short, you need to learn the distinction between your brain and mind as separate entities with marvelously different features and functions that make you conscious and able to move.

The brain information on this website emphasizes the profound connection between your working memory system and your long-term memory system. These two key brain ideas are #1 and #15 on the Circle of Consciousness SymbolŠ:


CIRCLE OF CONSCIOUSNESS SYMBOLŠ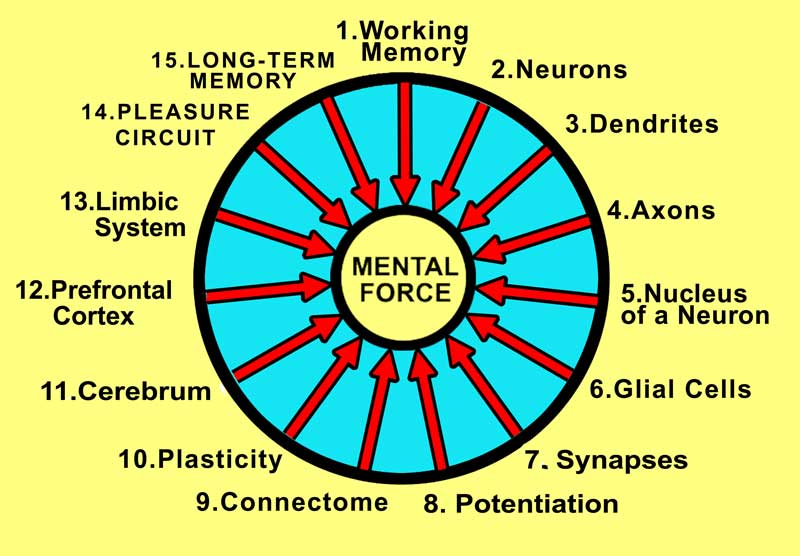 You can see that #1 and #15 are next to each other on the circle, which reminds you that they are inextricably connected inside your brain.

However, in this context, you would have no conscious self-awareness and would not be able to talk sensibly, if your prefrontal cortex (PFC) in your cerebrum and your hippocampus in your limbic system were not connected in a healthy way. That is the sad condition of Alzheimer's disease victims and the many other dementia disease victims who are growing in numbers every day.

However, you can do specific things each day to improve your brain functions by using your critical thinking skills and critical reading strategies to stimulate activity in your neural pathways. You can think through new strategies for developing new habits by basing your new decisions on comprehensive data (now known as Big Data).

If possible, you need to use "slow thinking" to evalute several perspectives instead of "fast thinking," which is automatic intuitive thinking based upon previous decisions that you made under similar or different situations in the past.

This key distinction among thinking processes is from Daniel Kahneman who was given a Nobel Prize for his research, which is described in more detail in other files on this website.

The best way to learn more about the new scientific brain knowledge is to expand your conscious self-awareness of the new brain vocabulary by reading about it and purposefully thinking about it. Your thinking skills and reading strategies can help you seek new brain knowledge as you ask yourself essential fundamental questions about the nature of reality to satisfy your robust curiosity.

Think back for a moment about the time you were growing up during childhood and adolescence. You learned basic words within the family and schooling social context in which you were born. Now, however, as an adult or teenager, you can choose to learn new words in a humanistic scientific context in order to choose new ideas for yourself.

If you were lucky, your parents were educated humanists who taught you to be a free thinking ethical humanist with a solid secular brain vocabulary from the start. If not, you can do it yourself!

The following diagram shows that the neuronal pathways of the two parts of your anterior cingulate cortex connect your PFC to your hippocampus: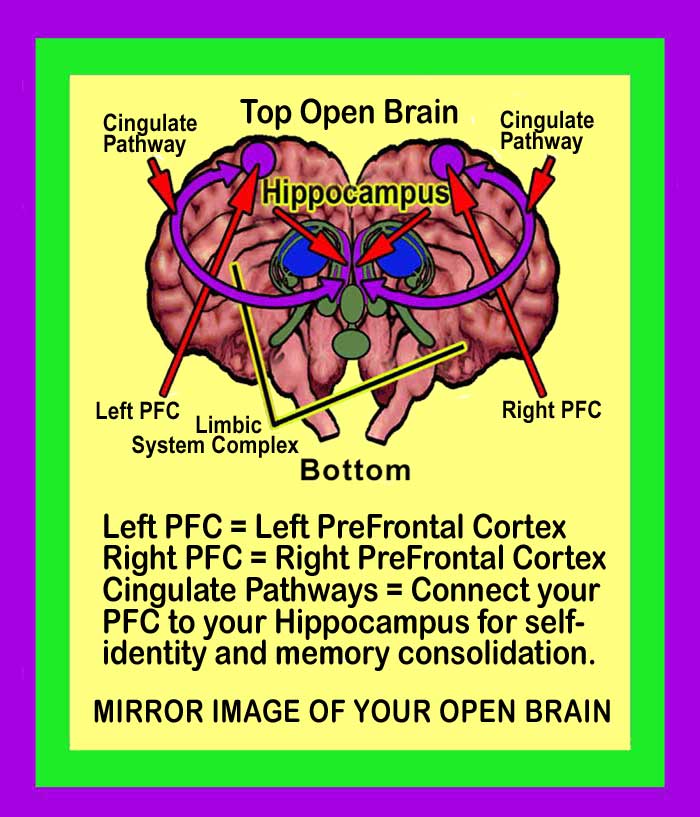 The best way to cope now is to create your own goals and plans based upon altruistic humanistic secular scientific values as you collaborate with other like-minded people to strengthen your willpower and empower your creativity.

Everybody, no matter what age, needs to cope with life's great social issues and make serious personal decisions at the predictable turning points in the human life cycle.


Printable PDF Form
DETAILS ABOUT
YOUR PREFRONTAL CORTEX
(for your own editing
and memory consolidation)




RECOMMENDATION: You can re-read this summary according to a reinforcement schedule, such as a few hours later and a few days later and then several times in the next week or two. This strategy can help you take advantage of the power of the spaced-repetition method of memorization. Such deep introspection can strengthen your willpower and change your adaptive self-identity to increase your self-esteem.



REMEMBER ALWAYS:
You are your adaptable memory!




instantly go to:
FACT CHECKER ABOUT
YOUR PREFRONTAL CORTEX #12
or instantly return to:
PREFRONTAL CORTEX:
BRAIN FLASH CARD #12
or instantly return to:
LIST OF 15 FREE
BRAIN FLASH CARDS
produced by
Infinite Interactive Ideas™