ALPHABETICAL BRAIN™ VOCABULARY
HUMANIST GALAXY
OF SECULAR SCIENCE STARS
DANIEL EDELMAN
June 1, 2020
THE HAPPINESS OF PURSUIT:
What neuroscience can teach
us about the good life
by Shimon Edelman
Basic Books, 2012 (pages 237)

BOOK OUTLINE




QUOTES = "Using the concept of the mind as a computing device, Edelman explains how the human brain is highly active, being involved in patterned networks, and constantly learning from new experiences. He claims that our brains predict the future through the pursuit of many diverse experiences...

Essentially... it is the journey, rather than the destination, that matters... The mind is actually a bundle of ongoing computations... underlying the mind's faculties: perception, motivation and emotions, action, memory, thinking, social cognition, learning and language. It is this collection of tools that enables us to discover how and why happiness happens." by publisher

"In this context, we are rewarded both in real time and in the long run... What matters is understanding that the meaning of life and pleasure-seeking are moment-by-moment journeys, rather than distant destinations... When fishing for happiness, catch and release. Remember these seven words — they are the keys to being happy," by publisher

AUTHOR'S NOTE (ix-x)

1) HOME IS WHERE THE MIND IS (1-6)

[1] No justice, no peace. (1-4)

[2] A journey is mapped out. (4-6)

2) COMPUTING THE MIND (7-34)

[1] A great metaphor that is not. (7-13)

[2] Concerning computation. (13-17)

[3] No cognition without representation. (17-21)

[4[] Three things everyone should know about life, the universe, and everything. (21-24)

[5] Promethean probabilities and amazing Bayes. (24-28)

[6] Minds within brains. (28-31)

[7] Minds without brains. (31-33)

[8] Snopsis (33-34)

3) THE REPUBLIC OF SOUL (35-69)

[1] A discourse on method. (36-41)

[2] Faster than a speeding marmot. (41-43)

[3] A treatise of human nature. (43-47)

[4] Perception by numbers. (47-53)

[5] Representation space: the final frontier. (53-55)

note = Call it "free space" (53)

[6] Being in the world. (56-58)

[7] The instruments of change. (58-61)

[8] The value of everything. (61-63)

[9] Things get interesting. (63-67)

(10) Synopsis (68-69)

4) LEARNING TO THINK FOR YOURSELF (71-93)

[1] Ulysses ascendant. (71-74)

[2] Remembrance of things past and future. (74-76)

[3] Why everything important that you know you must have learned for yourself. (76-79)

[4] Mirroring the world, mustache and all, one step at a time. (80-84)

[5] Where was I? (84-87)

[6] A moveable feast. (87-93)

5) YOU CAN TALK TO ME (95-130)

[1] Preeminence above a vole. (95-98)

[2] Replicants abroad. (98-105)

[3] The digital revolution. (105-107)

[4] Reduce, reuse, recycle. (107-111)

[5] A garden of forking paths. (111-118)

[6] Dependencies all the way down. (118-125)

[7] It takes a village. (125-129)

[8] Synopsis (129-130)

6) NOBODY AT HOME (131-158)

[1] The web of cause and effect. (131-132)

[2] Through a scanner, darkly. (133-136)

[3] Because it is there. (136-138)

[4] Connecting the dots. (138-142)

[5] Flow. (142-145)

[6] Soul music. (145-148)

[6] Being and time and zombies. (148-152)

[7] That which we are. (152-155)

[8] Synopsis (156-158)

7) AN IRRESISTIBLE CALL TO DEPART (159-176)

[1] Prometheus goes on parole. (159-163)

[2] Alexander meets Diogenes in Corinth. (163-165)

[3] History is made in Bishopsgate. (165-168)

[4] Peace is struck in the republic of soul. (168-173)

[5] Ulysses leaves Ithaca again. (173-176)

ALWAYS COMING HOME (177-181)

ACKNOWLEDGMENTS (183-184

NOTES (185-209)

FURTHER READING (211-230)

INDEX (231-237)



Selected Topics Highlighted:


Action
Affect
Age, old
Agency
Algorithm
Analogy
Assumptions about inference and learning
Bacon, Francis (ix)
Beauty
Brain
Buddha
Buddhism
Cause and causality
Change
Code
Communication
Computation
Concepts
Constructions, linguistic
Contentment
Coordination, in dialogue
Creativity
Culture
Dante
Dawkins, Richard
Death
Democracy
Depression
Development
Desires
Diogenes of Sinope
Evolution
Embodiment
Emotion
Epigenetics
Ethics
Experience
Face space
Flow
Forethought/foresight
Forgetting
Free will
Grammar: see Constructions, linguistic
Gravity
Happiness
Hedonic-value (91-92, 143, 195, 209)
Hedonic - treadmill (168)
Hiking
Hippocampus (86-87, 193-194)
Homer
Hume, David
Hypothesis, astonishing
Intent
Knowledge, scientfic
Language
Learning
Levels of explanation
Life
Love
Map, cognitive
Meaning
Meme
Memory
Mind: see Brain and computation
Mirror
Models of the world
Movement, control of
Motivation
Nature
Network
Paradise
Patterns
Skepticism
Soul
Statistics
Symbols
Synapse
Thermodynamics
Thinking
Time
tuning, of neurons
Uncertainty
Universe
Universals
Values
virtual. See reality
Vision
Web, of cause and effect
Wisdom
Wittgenstein, Ludwig
Yeast
Zeus
Zombies (151-152, 157, 205)


ABOUT THE AUTHOR, SUMMARY,
AND BOOK DESCRIPTION




ABOUT THE AUTHOR = Shimon Edelman is Professor of Psychology at Cornell University. He has taught at universities in Israel, England, the United States, and South Korea. He is the author of Computing the Mind and Representation and Recognition in Vision, along with dozens of scholarly publications in theoretical neuroscience, cognitive psychology, and artificial intelligence, all focusing on reverse-engineering the human brain. He lives in Ithaca, New York.

Edelman was born at the height of the Cold War in a global empire that eventually proved to be a figment of its own imagination. His subsequent peripatetics (traveling from place to place, in particular working or based in various places for relatively short periods) left him fluent in several languages, but without the ability to speak a single one without an accent (writing is another matter). Trained as an electrical engineer, he was turned by a clever book about the brain and became a reverse engineer, applying conceptual tools from computer science to understanding the mind. He teaches at Cornell University in Ithaca, New York.

SUMMARY = "When fishing for happiness, catch and release." Remember these seven words — they are the keys to being happy. So says Shimon Edelman, an expert on psychology and the mind.

BOOK DESCRIPTION = In the book, Edelman offers a fundamental understanding of pleasure and joy via the brain. Using the concept of the mind as a computing device, he unpacks how the human brain is highly active, involved in patterned networks, and constantly learning from experience. As our brains predict the future through pursuit of experience, we are rewarded both in real time and in the long run. Essentially, as Edelman discovers, it's the journey, rather than the destination, that matters.

The idea that cognition is computation — the brain is a machine — is nothing new of course. But, as Edelman argues, the mind is actually a bundle of ongoing computations, essentially, the brain being one of many possible substrates that can support them. Edelman makes the case for these claims by constructing a conceptual toolbox that offers readers a glimpse of the computations underlying the mind's faculties: perception, motivation and emotions, action, memory, thinking, social cognition, learning and language. It is this collection of tools that enables us to discover how and why happiness happens.

An informative, accessible, and witty tour of the mind, the book offers insights to a thorough understanding of what minds are, how they relate to each other and to the world, and how we can make the best of it all.


EDITORIAL BOOK REVIEW




CHOICE REVIEW = What? Yet another book on happiness? Yes, but this one is different, even distinct. Edelman (Cornell Univ.) provides a wry, gentle, sometimes frolicking overview of neuroscience by describing the amazing feats of humans' computational brains without flow charts, fMRIs, equations, or drawings of the synapse. He then links the computational brain and its by-products to big questions: Can increasing quantitative understanding of the brain improve the qualitative aspect of life? In effect, can psychologists ever hope to compute happiness? Edelman says yes, but one of the devils in the details is the search for self-knowledge. How is this book distinct from other recent efforts to explain what brings joy? The greatest empirical hits of contemporary happiness studies are not the focus of this by turns literary adventure (think Homer's Odyssey with a touch of sci-fi), philosophical treatise, and psychological account of what we know and hope to know. Edelman's seven quirky chapters explore why human happiness occurs by speculating how the brain creates the mind. Fans of Douglas Hofstadter's writings will enjoy this book. Summing Up: Recommended. All readers. D. S. Dunn Moravian College.


BOOK REVIEW HIGHLIGHTS




[1] Edelman paints a picture about how new knowledge of our brains can inform our ability to achieve happiness.... He weaves together his scientific expertise about our knowledge of how the brain works with references to Ulysses, Walt Whitman's poetry and Edelman's own passion for the Southwest desert. – Post and Courier.

[2] A cultured and often witty account of brain science and our potential for feeling good. The conclusion is that happiness is to be found in the journey (learning, etc) rather than the destination, at which proverbial advice we arrive after many interesting facts and provocative thoughts on evolution, language, the self and decision-making. – The Guardian, UK.

[3] An owner's manual for the mind ... an entertaining one. – Greater Good.

[4] An accessible volume on the science of the brain and mind.... Drawing on hard science, literature, and observations of the human condition, the work presents a readable narrative covering both physical and psychological aspects of happiness." – Book News.

[5] The book is for fans of enquiries into the nature of the brain, mind—and happiness itself.... [Edelman] offers a happy addition to the classic recipe of 'self-knowledge, self-improvement, and, eventually, selfless conduct'—a coherent notion of the self. – New Scientist.

[6] Edelman's explanations of just how the mind works...are dense but fascinating.... Without resorting to empty enthusiasm he demonstrates just what a marvel the mind is. He is especially good at explaining how facial recognition works ('analogy rules all') and how babies learn language ('language is also a game that plays people'). – The Winnipeg Free Press (Canada).

[7] The Cornell University psychology professor demonstrates that the more we understand how the brain operates the better we will understand how our minds process information, knowledge that will make us happy — at least momentarily. We are strivers, forever moving to the next challenge, and that's the key. Edelman's traipses through all fields of human endeavor. – Toronto Star (Canada).

[8] Edelman marries his scientific mind with his poetic eye to give us the neuroscience that matters the most: an understanding of our own lives. – David Eagleman, Director, Laboratory for Perception and Action, Baylor College of Medicine, and author of Incognito: The Secret Lives of the Brain.

[9] For all its seriousness, ambition, and learning, Shimon Edelman's new book is an extraordinarily human book. It is ambitious because he bases his view of the nature of happiness on what for many of his readers will be an unusual conception of the relation between the brain, the Self, and the body. Happiness, says Edelman, is not simply a state of mind one tries to attain, but an unceasing activity. That is, whenever it does attain its goal, after a pause for savoring its success it must change its goal for a new one. The book shows Edeman to be a witty, resourceful, raconteur. You never forget his presence. He leans out of his book as if he were at an open window beckoning to us to come inside and listen. – Dan Lloyd, Brownell Professor of Philosophy, Trinity College.

[10] The ancient injunction to 'Know thyself' gets a lively update in Shimon Edelman's eclectic examination of 'knowing' and 'self' through the lens of twenty-first century cognitive science. It is human to wander thoughtfully through real and imaginary landscapes, learning as we go — this is happiness, embodied in Edelman's witty odyssey, which provokes the very pleasures it describes. – Ben-Ami Scharfstein, Professor Emeritus of Philosophy, Tel-Aviv University, and author of Art Without Borders: A Philosophical Exploration of Art and Humanity.

[11] Taking passages by luminaries including Homer, William Shakespeare and Jorge Luis Borges as touchstones, Edelman powers along on his 'quest for an algorithmic understanding of happiness', revealing that it is this computational journey that constitutes the good life. – Nature.

[12] From Bayes' theorem of probability to Shakespeare's 'Romeo and Juliet,' Edelman offers a range of references and allegories to explain why a changing, growing self, constantly shaped by new experiences, is happier than the satisfaction any end goal can give us. It turns out the rewards we get for learning and understanding the workings of the world really make it the journey, not the destination, that matters most. – Salon.


Click or Tap to Return to Humanist Hub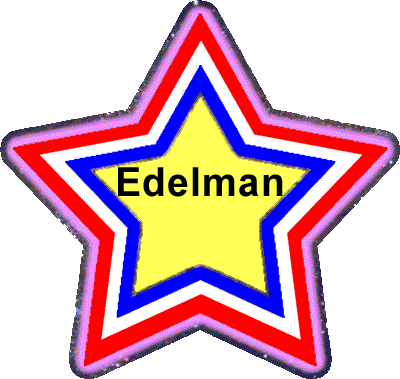 HUMANIST GALAXY
OF SECULAR SCIENCE STARS
produced by
Infinite Interactive Ideas™