ALPHABETICAL BRAIN™ VOCABULARY
HUMANIST GALAXY OF
SECULAR SCIENCE STARS
RICHARD DAWKINGS
October 18, 2021
RIVER OUT OF EDEN:
A Darwinian view of life
by Richard Dawkins.
BasicBooks/HarperCollins, 1995
(i-xiii, 172 pages)

Quote = "The central, unifying concept of modern biology is evolution, and as such, it provides a perspective on life that is, at times, placed in contrast to religious views. We are all familiar with the encounters between "fundamentalists" and "evolutionists" that have sometimes raged, and at other times smoldered, for well over a century."

"Even at the end of the 20th century we find many in the US who would gladly supplant evolutionary explanations with theist ones. Dawkins's book is a masterful discourse on the genetic underpinnings of evolution, the mechanisms by which biological organisms change over time, and current evolutionary questions." (Selected by webmaster from M. L. Weiss's Choice Review)

Quote = "Using the concept of a digital river of DNA, Richard Dawkins explores the evolution of humans from a single ancestor; evolutions of specific organs (e.g., eyes) and coadaptation of species (e.g., wasps and orchids); nature's physical and behavioral mechanisms to maximize survival of DNA; and, finally, the ultimate results when our DNA reaches out into space."

"Dawkin's arguments and examples are clear, compelling, and often amusing. Offering alternative and potentially controversial views of nature and its evolutionary processes, his book is an enjoyable read, written in terms understandable to nonspecialists but with nuances appealing to more specialized readers." (Selected by webmaster from Jeanne Davidson's Library Journal Review)

Quote = "One chapter attacks the common notion of purposefulness in any biological process — except for DNA's primal drive to self-replicate. The work is crammed with illustrative examples of Dawkins' conceptions; and although it can get ruthlessly grim, the playful exposition earns Dawkins a place on the biology shelves, again." (Selected by webmaster from Gilbert Taylor's Booklist Review)

Quote = Richard Dawkins, author of the famous book, The Selfish Gene, pictures evolution as a vast river of DNA-coded information flowing over millennia and splitting into three billion branches, of which 30 million branches of today's extant species survive. Emphasizing that the genetic code is uncannily computer-like, comprising long strings of digital information, the eminent Oxford evolutionary biologist surmises that we are "survival machines" programmed to propagate the database we carry.

"From his perspective, nature is not cruel only indifferent and the goal of a presumed Divine Engineer is maximizing DNA survival. Dawkins cautiously endorses the controversial "African Eve" theory, according to which the most recent common ancestor of all modern humans probably lived in Africa fewer than 250,000 years ago." (Slightly paraphrased by webmaster from Publishers Weekly Review)

BOOK OUTLINE
note = Numbers in parentheses refer to pages
Quote = "And a river went out of Eden to water the garden." -- From Christian Bible, Genesis 2:10 (7)

PREFACE (xi-xiii)

I) THE DIGITAL RIVER (1-29)

2) ALL AFRICA AND HER PROGENIES (31-57)

3) DO GOOD BY STEALTH (59-93)

4) GOD'S UTILITY FUNCTION (95-133)

5) THE REPLICATION BOMB (135-161)

BIBLIOGRAPHY AND FURTHER READING (163-166)

INDEX (167-172)


AUTHOR NOTES




AUTHOR NOTES = Richard Dawkins was educated at Oxford University and taught zoology at the University of California and Oxford University, holding the position of the Charles Simonyi Professor of the Public Understanding of Science. He writes about such topics as DNA and genetic engineering, virtual reality, astronomy, and evolution. His books include The Selfish Gene, The Extended Phenotype, The Blind Watchmaker, River Out of Eden, Climbing Mount Improbable, The God Delusion, and An Appetite for Wonder: The Making of a Scientist. – Bowker Author Biography.


EDITORIAL BOOK REVIEWS




PUBLISHER'S WEEKLY REVIEW = Dawkins (The Selfish Gene) pictures evolution as a vast river of DNA-coded information flowing over millennia and splitting into three billion branches, of which 30 million branches of today's extant species survive. Emphasizing that the genetic code is uncannily computer-like, comprising long strings of digital information, the eminent Oxford evolutionary biologist surmises that we are "survival machines" programmed to propagate the database we carry. From his perspective, nature is not cruel only indifferent and the goal of a presumed Divine Engineer is maximizing DNA survival. Dawkins cautiously endorses the controversial "African Eve" theory, according to which the most recent common ancestor of all modern humans probably lived in Africa fewer than 250,000 years ago. The author's narrative masterfully deals with controversies in evolutionary biology. Natural Science Book Club dual main selection; Library of Science alternate.

BOOKLIST REVIEW = The newest volume in the new Science Masters series [BKL O 1 94] condenses the subject of inherited genes for readers wanting maximum absorption in a single sitting. As with fellow authors in the series, British biologist Dawkins brings the success of a popular science work (The Selfish Gene, 1989) to the goal of introducing the curious to his specialty, evolution. Dawkins' lecture-like text stakes out firm beliefs in gradualism, rather than variants of "creationism," as the motive force in biological change. To a clerical letter-writer who divines divine design in wasp behavior (and by extension, in the intricate structure of life), Dawkins playfully opposes perfectly natural reasons for bee dances. Another chapter attacks the common notion of purposefulness in any biological process — except for DNA's primal drive to self-replicate. The work is crammed with illustrative examples of Dawkins' conceptions; and although it can get ruthlessly grim, the playful exposition earns Dawkins a place on the biology shelves, again. – Gilbert Taylor

CHOICE REVIEW = The central, unifying concept of modern biology is evolution, and as such, it provides a perspective on life that is, at times, placed in contrast to religious views. We are all familiar with the encounters between fundamentalists and evolutionists that have sometimes raged, and at other times smoldered, for well over a century. Even at the end of the 20th century we find many in the US who would gladly supplant evolutionary explanations with theist ones. Dawkins's book is a masterful discourse on the genetic underpinnings of evolution, the mechanisms by which biological organisms change over time, and current evolutionary questions. He addresses a wide array of topics, including heredity, DNA, mitochondrial Eve, and human evolution, as well as many of the criticisms of Darwinian evolution raised by creationists. Dawkins has a particular knack for drawing analogies that make even rather complex processes quite clear. He provides straightforward responses to those who would argue for a creationist view, while demonstrating the elegance of scientific reasoning. A mechanistic, yet inspiring, view of life is explored in this deceptively easy-to-read book. All levels. M. L. Weiss; Wayne State University.

LIBRARY JOURNAL REVIEW = Dawkins continues discussion of the evolutionary themes introduced in his previous popular works, The Selfish Gene (LJ 12/1/76) and The Blind Watchmaker (LJ 2/1/87). Using the concept of a digital river of DNA, he explores the evolution of humans from a single ancestor; evolutions of specific organs (e.g., eyes) and coadaptation of species (e.g., wasps and orchids); nature's physical and behavioral mechanisms to maximize survival of DNA; and, finally, the ultimate results when our DNA reaches out into space. His arguments and examples are clear, compelling, and often amusing. Offering alternative and potentially controversial views of nature and its evolutionary processes, Dawkins's book is an enjoyable read, written in terms understandable to nonspecialists but with nuances appealing to more specialized readers. Recommended for academic and larger public science collections. Jeanne Davidson, Oregon State University, Corvallis, OR.


REMEMBER ALWAYS:
You are your adaptable memory!
Click or Tap Star to Return to Humanist Hub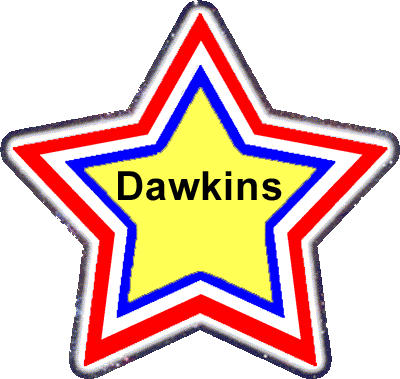 RETURN TO THE HUMANIST HUB
OF SECULAR SCIENCE STARS
ALPHABETICAL BRAIN™ VOCABULARY
produced by
Infinite Interactive Ideas™