ALPHABETICAL BRAIN™ VOCABULARY
HUMANIST GALAXY
OF SECULAR SCIENCE STARS
RICHARD DAWKINS
October 16, 2021
GREATEST SHOW ON EARTH:
The Evidence for Evolution
by Richard Dawkins.
Free Press, 2009
(i-ix, 470 pages/32 pages of color plates)

Quote = "Richard Dawkins makes the airtight case that: 'We find ourselves perched on one tiny twig in the midst of a blossoming and flourishing tree of life and it is no accident!' He believes that human life is the direct consequence of "evolution by non-random selection." His unjaded passion for the natural world turns what might have been a negative argument, exposing the absurdities of the creationist position, into a positive offering to the reader. This is nothing less than a master's vision of life, in all its splendor!"

"This book lays out evidence in defense of the theory of evolution and provides a summary of evolutionary biology, with detailed explanations of scientific concepts. Dawkins' transformed our view of God in his blockbuster book, The God Delusion, which sold more than 2 million copies in English alone. In addition, he revolutionized the way we understand the idea of "natural selection" in the seminal bestseller book, The Selfish Gene."

"Now, Dawkins launches a fierce counterattack against religious proponents of "Intelligent Design" in this New York Times bestseller book... This is essential since the Creationist belief in "Intelligent Design" is being taught in many schools as controversial and even financially supported by the U.S. government (under Trump's short dynasty)."

"Dawkins believes there is no legitimate controversy and attempts to prove it in this book. He sifts through rich layers of scientific evidence --- from living examples of natural selection to clues in the fossil record and from natural clocks that mark the vast epochs wherein evolution ran its course. Also, he explains the intricacies of the growth of developing embryos, the movement of plate tectonics, and the tiny details of molecular genetics." (Paraphrased by webmaster from the publisher's blog)

BOOK OUTLINE






note = Numbers in parentheses refer to pages



PREFACE (vii-ix)

1) ONLY A THEORY? (1-18)

2) DOGS, COWS, AND CABBAGES (19-42)

3) THE PRIMROSE PATH TO MACRO-EVOLUTION (43-82)

4) SILENCE AND SLOW TIME (83-107)

5) BEFORE OUR VERY EYES (109-141)

6) MISSING LINK? WHAT DO YOU MEAN, 'MISSING'? (143-180)

7) MISSING PERSONS? MISSING NO LONGER (181-207)

8) YOU DID IT YOURSELF IN NINE MONTHS (209-350)

9) THE ARK OF THE CONTINENTS (351-284)

10) THE TREE OF COUSINSHIP (285-336)

11) HISTORY WRITTEN ALL OVER US (337-371)

12) ARMS RACES AND 'EVOLUTIONARY THEODICY' (373-396)

13) THERE IS GRANDEUR IN THIS VIEW OF LIFE (397-426)

APPENDIX — The history-deniers (427-437)

NOTES (439-458)

INDEX (459-470)


AUTHOR NOTES, SUMMARY,
AND BOOK DESCRIPTION




AUTHOR NOTES = Richard Dawkins was educated at Oxford University and taught zoology at the University of California and Oxford University, holding the position of the Charles Simonyi Professor of the Public Understanding of Science. He writes about such topics as DNA and genetic engineering, virtual reality, astronomy, and evolution. His books include The Selfish Gene, The Extended Phenotype, The Blind Watchmaker, River Out of Eden, Climbing Mount Improbable, The God Delusion, and An Appetite for Wonder: The Making of a Scientist. – Bowker Author Biography.

SUMMARY = The book lays out evidence in defense of the theory of evolution and provides a summary of evolutionary biology, with detailed explanations of scientific concepts. Richard Dawkins transformed our view of God in his blockbuster, The God Delusion, which sold more than 2 million copies in English alone. He revolutionized the way we see natural selection in the seminal bestseller The Selfish Gene. Now, Dawkins launches a fierce counterattack against proponents of "Intelligent Design" in this New York Times bestseller book.

BOOK DESCRIPTION = The Creationist belief in "Intelligent Design" is being taught in many schools. In those Christian fundamentalist school, educators are being asked to "teach the controversy" behind evolutionary theory. Richard Dawkins believes that there is no controversy and proves it in this book by sifting through rich layers of scientific evidence — from living examples of natural selection to clues in the fossil record; from natural clocks that mark the vast epochs wherein evolution ran its course to the intricacies of developing embryos; from plate tectonics to molecular genetics.

Dawkins makes the airtight case that "We find ourselves perched on one tiny twig in the midst of a blossoming and flourishing tree of life and it is no accident!" He believes that human life is the direct consequence of 'evolution by non-random selection.' His unjaded passion for the natural world turns what might have been a negative argument, exposing the absurdities of the creationist position, into a positive offering to the reader: nothing less than a master's vision of life, in all its splendor.


EDITORIAL BOOK REVIEWS




LIBRARY JOURNAL REVIEW = In books such as The Selfish Gene, The Blind Watchmaker, and Climbing Mount Improbable, Richard Dawkins has contributed significantly to the public understanding of evolutionary theory. Here, he backtracks, offering not a discussion of the magnificence of the evolutionary view of life but several basic proofs of its validity. He argues that this is necessary because of recent assaults from creationists upon the very concept of evolution by natural selection. There are many books that address the need of better informing the public about why the theory is essential, e.g., David Sloan Wilson's Evolution for Everyone and Jerry A Coyne's Why Evolution Is True.

Dawkins has an influential voice in the debate, so the broadsides that he launches against creationists in this book will certainly cheer his many fans. However, he seems to be primarily preaching to the choir and probably won't win converts (a metaphor that Dawkins, an atheist and author of The God Delusion, might find objectionable). Verdict The author's name will guarantee a readership, but the sincerely curious and undecided would benefit more from other recent titles. – Gregg Sapp, Evergreen State Coll. Lib., Olympia, WA

PUBLISHERS WEEKLY REVIEW = Richard Dawkins begins The Greatest Show on Earth with a short history of his writing career. He explains that all of his previous books have naively assumed "the fact of evolution," which meant that he never got around to laying "out the evidence that if evolution is true." This should not be too surprising: science is an edifice of tested assumptions, and just as physicists must assume the truth of gravity before moving on to quantum mechanics, so do biologists depend on the reality of evolution. It is the theory that makes every other theory possible. Yet Dawkins also came to realize that a disturbingly large percentage of the American and British public didn't share his enthusiasm for evolution. In fact, they actively abhorred the idea, since it seemed to contradict the Bible and diminish the role of God.

So Dawkins decided to write a book for these "history-deniers," in which he would dispassionately demonstrate the truth of evolution "beyond sane, informed, intelligent doubt." After only a few pages of the book, however, it becomes clear that Dawkins does not do dispassionate, and that he is not particularly interested in convincing believers to believe in evolution. He repeatedly compares creationists and Holocaust deniers, which is a peculiar way of reaching out to the other side. Elsewhere, Dawkins calls those who don't subscribe to evolution "ignorant," "fatuously ignorant" and "ridiculous."

All of which raises the point: who, exactly, is supposed to read this book?

Is Dawkins preaching to the choir or trying to convert the uninformed? While the book might fail as a work of persuasive rhetoric --- Dawkins is too angry and acerbic to convince his opponents --- it succeeds as an encyclopedic summary of evolutionary biology. If Charles Darwin walked into a 21st-century bookstore and wanted to know how his theory had fared, this is the book he should pick up. Dawkins remains a superb translator of complex scientific concepts. It does not matter if he is spinning metaphors for the fossil record ("like a spy camera" in a murder trial) or deftly explaining the method by which scientists measure the genetic difference between distinct species: he has a way of making the drollest details feel like a revelation.

Even if one already believes in the survival of the fittest, there is something thrilling about learning that the hoof of a horse is homologous to the fingernail of the human middle finger, or that some dinosaurs had a "second brain" of ganglion cells in their pelvis, which helped compensate for the tiny brain in their head. As Darwin famously noted, "There is grandeur in this view of life." What Dawkins demonstrates is that this view of life is not just grand: it is also undeniably true. Color illus. (Sept. 29) Jonah Lehrer is the author of How We Decide and Proust Was a Neuroscientist.

CHOICE REVIEW = This book is the author's thorough effort to "demonstrate that evolution is an inescapable fact." Dawkins, an esteemed, prolific writer (e.g., The God Delusion, CH, May'07, 44-4994; The Ancestor's Tale, CH, Apr'05, 42-4628) deftly guides readers along clear paths of evidence showing that species of organisms from microbes to man actually change over time. The book, which is aimed at "history-deniers," the author's term for creationist deniers of facts, targets mainly US readers. Dawkins is justifiably alarmed that this country contains a higher proportion of history-deniers than all 32 countries in Europe. (An appendix reports poll results.)

Because history-deniers deny the facts of chemistry and physics as well as biology, Dawkins carefully explains radioactivity and why it provides reliable clocks that inform us of rates of evolutionary change at vastly disparate time scales. He illuminates historic evolutionary change, within and among species, with clear stories of significant biological observations and experiments. Most of the book is accessible to high school students; it is also a clear read for adults with hazy recollections of the basics. Although not presented as such, the work is a painless primer of the scientific method more generally --- observational and experimental, and always hypothetico-deductive. Summing Up: Highly recommended. All levels/libraries. A. J. Kohn emeritus, University of Washington.


REMEMBER ALWAYS:
You are your adaptable memory!
Click or Tap Star to Return to Humanist Hub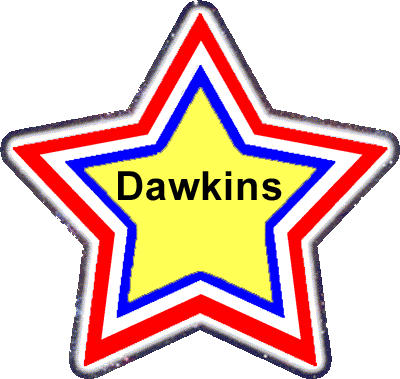 RETURN TO THE HUMANIST HUB
OF SECULAR SCIENCE STARS
ALPHABETICAL BRAIN™ VOCABULARY
produced by
Infinite Interactive Ideas™