ALPHABETICAL BRAIN™ VOCABULARY
HUMANIST GALAXY OF
SECULAR SCIENCE STARS
RICHARD DAWKINGS
October 16, 2021
THE BLIND WATCHMAKER:
Why the Evidence of Evolution
Reveals a Universe Without Design
by Richard Dawkins.
Norton, 1976, 1986, with a new
introduction in the 1996 edition
(i-xvii, 358 pages)





Quote = "Richard Dawkins persuasively argues the case for Darwinian evolution. He criticizes the prominent punctuationist school, and takes issue with the views of creationists and others who believe that life arose by the design of a deity. Using the evolution of various animals as examples and drawing parallels from improvements in modern technology."

"Also Dawkins demonstrates the logic of the selection process and explains an incremental evolutionary process whose end products are the highly complex, functional organisms we know today." (Slightly paraphrased by webmaster from Library Journal Review)


BOOK OUTLINE






note = Numbers in parentheses refer to pages



INTRODUCTION TO THE 1996 EDITION (ix-xi)

PREFACE (xiii-xv)

1) EXPLAINING THE VERY IMPROBABLE (1-18)

2) GOOD DESIGN (21-41)

3) ACCUMULATING SMALL CHANGE (43-74)

4) MAKING TRACKS THROUGH ANIMAL SPACE (77-109)

5) THE POWER AND THE ARCHIVES (111-137)

6) ORIGINS AND MIRACLES (139-166)

7) CONSTRUCTIVE EVOLUTION (169-193)

8) EXPLOSIONS AND SPIRALS (195-220)

9) PUNCTURING PUNCTUATIONISM (223-252)

10) THE ONE TRUE TREE OF LIFE (255-284)

11) DOOMED RIVALS (287-318)

BIBLIOGRAPHY (321-326)

INDEX AND KEY TO BIBLIOGRAPHY (327-332)

APPENDIX I — An application for the Apple Macintosh computer (335-349)

APPENDIX II [1991] — Computer programs and "the evolution of evolvability" (351-358)


AUTHOR NOTES, SUMMARY,
AND BOOK DESCRIPTION




AUTHOR NOTES = Richard Dawkins was educated at Oxford University and he taught zoology at the University of California and Oxford University, holding the position of the Charles Simonyi Professor of the Public Understanding of Science. He writes about such topics as DNA and genetic engineering, virtual reality, astronomy, and evolution. His books include The Selfish Gene, The Extended Phenotype, The Blind Watchmaker, River Out of Eden, Climbing Mount Improbable, The God Delusion, and An Appetite for Wonder: The Making of a Scientist. – Bowker Author Biography.

SUMMARY = This book is as prescient and timely a book as ever. The catchword "watchmaker" belongs to the 18th-century theologian William Paley, who argued that just as a watch is too complicated and functional to have sprung into existence by accident, he believed that all living things, with their far greater complexity, were purposefully designed.

BOOK DESCRIPTION = 20 years after its original publication, the book The Blind Watchmaker, is framed with a new introduction by the author... Charles Darwin's brilliant discovery challenged the creationist arguments; but only Richard Dawkins could have written this elegant riposte. Dawkins explains how "natural selection," which is the unconscious, automatic, blind (yet essentially nonrandom process) that Darwin discovered, has no purpose in mind. Evolution plays the role of a "watchmaker" in nature, but only a "blind watchmaker."


EDITORIAL BOOK REVIEW




LIBRARY JOURNAL REVIEW = Dawkins, author of The Selfish Gene ( LJ 12/1/76), persuasively argues the case for Darwinian evolution. He criticizes the prominent punctuationist school, and takes issue with the views of creationists and others who believe that life arose by the design of a deity. Using the evolution of various animals as examples and drawing parallels from improvements in modern technology, Dawkins demonstrates the logic of the selection process and of an incremental evolution whose end products are the highly complex, functional organisms we know today. This provocative work is likely to generate further controversy in the scientific community. Recommended for informed laypersons, undergraduates, and scholars. Joseph Hannibal, Cleveland Museum of Natural History.


REMEMBER ALWAYS:
You are your adaptable memory!
Click or Tap Star to Return to Humanist Hub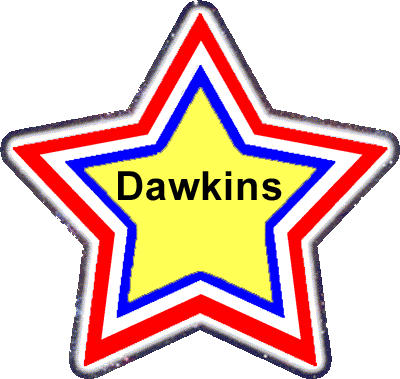 RETURN TO THE HUMANIST HUB
OF SECULAR SCIENCE STARS
ALPHABETICAL BRAIN™ VOCABULARY
produced by
Infinite Interactive Ideas™