ALPHABETICAL BRAIN® VOCABULARY
HUMANIST FAMILY BRAIN SURVEY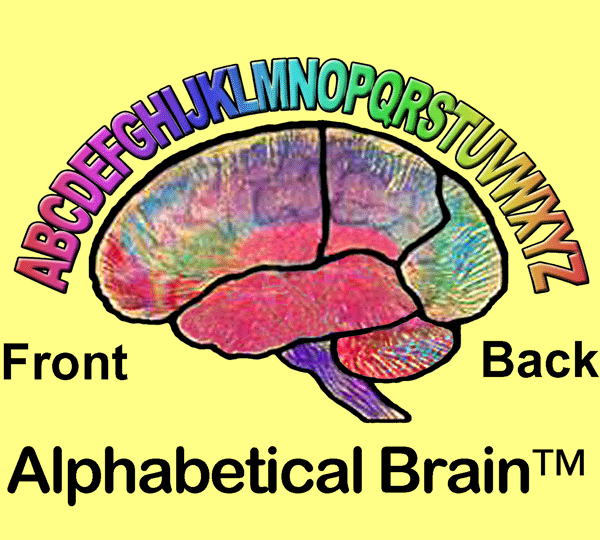 DISCOVER YOUR ALPHABETICAL BRAIN®
INTRODUCTION - SECTION 5 - DETAILS
WHAT IS THE GOAL OF THE
HUMANIST FAMILY BRAIN SURVEY?
May 24, 2022




The main goal of the Humanist Family Brain Survey is to focus your attention on the meanings of the 15 major brain ideas, which describe the most important 15 brain functions that you can control by yourself. Then, you can provide feedback concerning the educational value of this website to yourself and other humanists.

This website can help you learn about the parts of your brain that give you the natural willpower and creative imagination to manage your own thoughts and feelings and actions and influence others. In addition to learning the meaning of the logical progressive sequence of the 15 interactive brain ideas, you will be able to improve your ability to reason, make better decisions, and express your feelings more kindly (lovingly).

To make brain training even easier, many of the files can be printed in order to take advantage of the multisensory approach to brain instruction. You will have your own copy of the essays to edit so you can continue studying without the need to use your computer or online devices at all times. Also the links are arranged for random discovery according to your own moods and motivations.

All the time you are studying your brain for new insights, the 30 Day Timetable Chart will be available to remind you how important the spaced-repetition method of memorization is for learning about the 15 brain ideas and the dynamic relationships that exist among your brain's physical structures and your mind's mental functions.

A PowerPoint Presentation will provide an automated view of the 15 memory-codes and a preview of the 15 definitions in the unique sequence of 15 brain-ideas starting with brain-idea #1 = working (short-term) memory and ending with brain-idea #15 = long-term memory consolidation process.

Finally, one of the major goals of the Humanist Family Brain Survey is to determine whether or not there is a consensus among the members of the American Humanist Association concerning the relevance of the 15 brain ideas for improving all human relationships and behaviors in families, schools, and other organizations.


HUMANIST FAMILY BRAIN SURVEY




Please consider participating in the Humanist Family Brain Survey by sharing your ideas about the best ways to improve this website for family use. To achieve this goal, please think about answers to the following four questions:

[1] Are the 15 brain ideas relevant to your life, whether you are an adult, teenager, or child?



[ ] Yes........... [ ] No..........


[ ] Adult... [ ] Teenager... [ ] Child 5-12 years



[2] Can more attention to the controllable factors of the brains and minds of family members help parents and teachers educate children and teenagers to become more committed lifelong humanists?



[ ] Yes......... [ ] No.........



[3] What other ideas about your brain's structures or mind's functions would you add to the 15 brain ideas featured on this website or like to recommend being replaced with other ideas?

[4] What other book or information resources would you add to the sources cited on this website?


ALPHABETICAL BRAIN®
VOCABULARY HANDBOOK




This website was designed to motivate all family members to communicate about their brains and minds in progressively more complex ways at all ages. This cognitive process involves redefining reality in a rational, optimistic, scientific, secular way. Also, there will be more specific parental guidance about the significance of the 15 brain ideas to encourage family interaction and intergenerational dialogue about the brain and the mind.

In addition, an affordable practical Alphabetical Brain® Vocabulary Handbook will be available from Amazon, and also on this website, with more detailed references and memory exercises concerning the new alphabetical vocabulary knowledge.

SUMMARY: The goal of the Humanist Family Brain Survey is to obtain constructive feedback from humanist parents and teachers about the effectiveness of this website. One objective is to provide humanist parents with proper evidence-based parenting knowledge and skills so they can educate their children about the spectacular structure of their brains and the fantastic functions of their minds. Another objective is to help teachers reveal to their students modern scientific truths about the evolutionary brains of their students.

RECOMMENDATION: You may print this essay and read it and edit it by adding or deleting brain ideas. Then you can read your edited version by using an effective reinforcement schedule such as the flash-card technique or the spaced-repetition method of memorization — or both — to speed up your learning of the new brain ideas and their interactions. Such deep introspection can strengthen your willpower and increase your self-esteem and dramatically change your adaptable self-identity.


REMEMBER ALWAYS:
You Are Your Adaptable Memory!
instantly return to:
INTRODUCTION - SECTION 5
SUMMARY LINK
or instantly return to:
WEBSITE INDEX
ALPHABETICAL BRAIN® VOCABULARY
produced by
Infinite Interactive Ideas®