ALPHABETICAL BRAIN™ VOCABULARY
HUMANIST GALAXY
OF SECULAR SCIENCE STARS
October 23, 2021





Note = Steven Pinker is one of the world's leading authorities on language and the mind. He has written many important popular and highly praised books, including several brain science books emphasizing the importance of language in understanding the human brain, which should be read and discussed throughout the Humanist Galaxy.

Pinker is the Johnstone Family Professor of Psychology at Harvard University and has been associated with MIT. He writes frequently for The New York Times, Time, The New Republic, and other magazines and has been listed among Foreign Policy magazine's "Top 100 Public Intellectuals" and Time's "The 100 Most Influential People in the World." He is currently chair of the Usage Panel of The American Heritage Dictionary.

The books include: (1) WORDS AND RULES: the Ingredients of Language; (2) HOW THE MIND WORKS published in 2009; (3) THE STUFF OF THOUGHT; Language as a Window into Human Nature published in 2007; (4) THE BLANK SLATE; the Modern Denial of Human Nature; published in 2002; and (5) THE LANGUAGE INSTINCT: How the Mind Creates Language first published in 1994 and updated in the revised 2007 edition (i-xv, 526 pages).

Two of Pinker's most influential books are listed below and his latest book published in 2021, RATIONALITY: What It Is, Why It Seems Scarce, Why It Matters, will be outlined and reviewed very soon:








Book #1
HOW THE MIND WORKS
by Steven Pinker.
Norton, 2nd ed. 2009 with a new forword
(i-xviii, 661pages) 1st ed. 1997



============== and ==============

Book #2
ENLIGHTENMENT NOW:
The Case for Reason, Science,
Humanism, and Progress
by Steven Pinker.
Viking, 2018 (556 pages)



The links to outlines and reviews of both books follow. Other books will be online soon.


Click or Tap Links to Outlines and Reviews
Book #1
HOW THE MIND WORKS
OR
Book #2
ENLIGHTENMENT NOW:
The Case for Reason, Science,
Humanism, and Progress
Click or Tap Star to Return to Humanist Galaxy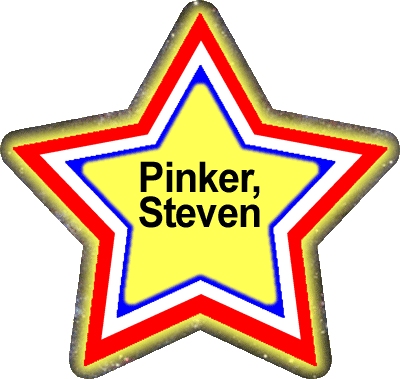 RETURN TO THE HUMANIST GALAXY
OF SECULAR SCIENCE STARS
ALPHABETICAL BRAIN™ VOCABULARY
produced by
INFINITE INTERACTIVE IDEAS™