ALPHABETICAL BRAIN™ VOCABULARY
HUMANIST HUB
OF SECULAR SCIENCE STARS
ALISON GOPNIK
September 15, 2020




Note: Alison Gopnik, is the author and child development research expert at UC Berkeley, who confirmed the brain facts about "crystalized" and "liquid" memory in an article about the cognitive advantages of growing older featured in the Wall Street Journal (October 2, 2018).

Gopnik is the author of the following three books about child development and parenting skills:

[1] The Scientist in the Crib: Minds, Brains, and How Children Learn by Alison Gopnik. William Morrow, 1999 (i-xv, 279 pages)

[2] The Philosophical Baby: What Children's Minds Tell Us About Truth, Love, and the Meaning of Life published by Farrar, Straus and Giroux, 2009 (i-x, 288 pages)

[3] The Gardner and the Carpenter: What the New Science of Child Development Tells Us About the Relationship Between Parents and Children by Alison Gopnik. Farrar, Straus and Giroux, 2016 (i-x, 302 pages)

All three books should be read and discussed throughout the Humanist Galaxy.


Click or Tap to Outlines and Reviews:
Book #1:
THE SCIENTIST IN THE CRIB:
Minds, Brains, and How Children Learn

OR
Book #2:
THE PHILOSOPHICAL BABY:
What Children's Minds Tell Us About
Truth, Love, and the Meaning of Life

OR
Book #3:
THE GARDENER AND THE CARPENTER:
What the New Science of
Child Development Tells Us About the
Relationship Between Parents and Children
Click or Tap to Return to Star List: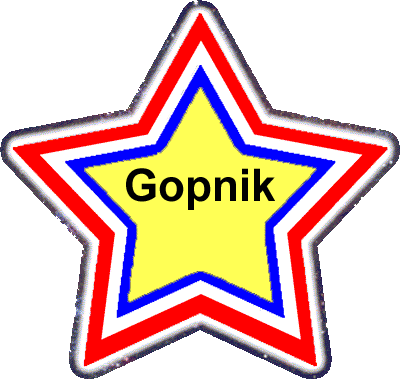 RETURN TO HUMANIST GALAXY
OF SECULAR SCIENCE STARS
produced by
Infinite Interactive Ideas™