ALPHABETICAL BRAIN™ VOCABULARY
HUMANIST GALAXY OF
SECULAR BRAIN SCIENCE STARS
December 1, 2019
HEALTHY BRAIN, HAPPY BRAIN:
A Personal Program to Activate Your
Brain & Do Everything Better
by Wendy Suzuki with Billie Fitzpatrick.
Dey Street/William Morrow, 2015
(i-viii, 306 pages)
BOOK OUTLINE




INTRODUCTION (1-7)

1) HOW A GEEKY GIRL FELL IN LOVE WITH THE BRAIN — the science of neuroplasticity and enrichment (9-39)

2) SOLVING THE MYSTERIES OF MEMORY — how memories are formed and retained (41-60)

3) THE MYSTERY OF MEMORY HITS HOME — memories mean more than neurons (61-77)

4) CHUNKY NO MORE — reconnecting my brain with my body and spirit (79-106)

5) THE BIRTH OF AN IDEA — how does exercise really affect the brain? (107-134)

6) SPANDEX IN THE CLASSROOM — exercise can make you smarter (135-162)

7) I STRESS, YOU STRESS, WE ALL STRESS! — challenging the neurobiology of stress response (163-185)

8) MAKING YOUR BRAIN SMILE — your brain's reward system (187-211)

9) THE CREATIVE BRAIN — sparking insight and divergent thinking (213-236)

10) MEDITATION AND THE BRAIN — getting still and moving it forward (237-267)

FINAL NOTE (269-270)

ACKNOWLEDGMENTS (271)

REFERENCES (273-293)

INDEX (285-306)


AUTHOR NOTE, SUMMARY,
AND BOOK DESCRIPTION




AUTHOR NOTE = Wendy Suzuki, PhD, runs an interactive research lab at New York University, where her work has been recognized with numerous awards including the prestigious Troland Research Award from the National Academy of Sciences. Her research has focused on understanding the patterns of brain activity underlying long-term memory and, more recently, how aerobic exercise might improve our learning, memory, and cognitive abilities. She is a two-time TEDx speaker and is regularly interviewed on television and in print about her work on the effects of exercise on brain function. She lectures nationally and internationally on her research and serves as a reviewer for many of the top neuroscience journals. She lives in New York City.

SUMMARY = The book is an accessible blend of memoir and science narrative that can transform the way you think about your brain, your health, and your personal happiness. Through both groundbreaking brain research and personal stories, Wendy offers practical and fascinating ways to improve memory, engage the mind more deeply, and learn new skills that will ultimately transform your body and your life. In short, the key to a happy life ... is a healthy brain.

BOOK DESCRIPTION = Wendy Suzuki makes the ultimate mind-body-spirit connection and shows that everything she did for her body changed her brain — and her life — for the better. From the outside, it looked like Dr. Wendy Suzuki had it all. She was a world-renowned neuroscientist. She had been lauded by her peers with many prizes and had produced many highly regarded scientific publications. She had tenure at a top-ranked university, where she also ran her own lab — two of the most difficult and highly coveted positions for any scientist to attain.

However, Wendy was forty, frumpy, and focused on her work one hundred percent of the time. She was single, overwhelmed by her responsibilities, and often found herself in uncomfortable, strained interactions with everyone around her. To put it simply, Wendy Suzuki needed to change her life. Then she set out on a journey that would transform her body, her mind, and her brain. The first step was exercise and creating a regime that would make her body more fit.

In the process, Wendy found herself focusing better, working smarter, and getting more accomplished in a shorter amount of time. As her body changed, her determination grew. She decided to build a more vibrant social life, spark her creativity, and engage in meditation and other mindful activities—using her expertise in neuroscience to pinpoint exactly how these actions not only made her brain work better but also made her feel, well, and happy.


BOOK REVIEW HIGHLIGHTS




[1] We Have An Enormous Capacity To Change Into The Very Best Version Of Ourselves -- The book is a fun read, filled with all kinds of exciting ways to expand your brain power. My favorite parts of the book are these little sections that the author calls "Brain Hacks." These sections are lists of easy ways to really supercharge your brain and make use of the latent power in it.

Here's the theme in a nutshell: "One thing I know for sure is that brain plasticity endows us with an enormous capacity to change into the very best version of ourselves that we can be." Dr. Suzuki explains that she uses 20 years of research in neuroscience to apply these same principles to her own personal life. She admits that she "Went from living as a virtual lab rat --an overweight middle aged woman who had achieved many things in science, but who could not seem to figure out how to also be a healthy, happy woman."

One of her main discoveries is the powerful mind-body link. The author emphasizes how powerful exercise is. "Exercise is responsible for the majority of the positive brain changes seen with environmental enrichment." And so, Dr. Suzuki invests much time talking about the power of the brain-body connection. Towards that end, she combines physical workouts as a way to energize your brain: "The body has a powerful influence on her brain functions and conversely but the brain has a powerful influence over how are bodies feel and work and heal." Exercise causes definite changes in your body--it boosts the level of three key chemicals that affect mood.

[2] The key is to make your workouts intentional. Towards that end, the author suggests ways to do this--for example, proclaiming affirmations out loud. "Intentional exercise happens when you make exercise both aerobic and mental.We Have An Enormous Capacity To Change Into The Very Best Version Of Ourselves

The book is all about focusing on expanding your brain power. Our bodies and mind have a very powerful link. Dr. Suzuki has invested her life to focusing on the brain. She goes on to state that "Exercise is responsible for the majority of the positive brain changes seen with environmental enrichment." Dr. Suzuki is making the point that we need to exercise to work our brain to its fullest potential. She goes on to make the point that you want to make sure the exercise is intentional because that is what exercise you both mentally and aerobically.

The second best way to expand your brain is by creativity. The point of creativity is to learn new things that will improve your brain and your senses. One is able to find different ways to help build and exercise their brain. The author calls some of the tips she gives "Brain Hacks" so I thought this was a great learning tool.

[3] I thought the book was very insightful. I thought this book had a lot of good tips and was also able to explain the brain and how things worked really well. I did enjoy reading it and learning new things on how I am able to improve my brain function.

[4] Interesting, unique blend of a great story and excellent, helpful insights -- I read and write on life and have reviewed, studied, and learned from many sources. From that background, I selected this book after reviewing it for about 30 minutes.

As I read it, I marveled at the honesty of the author about her personal story and how she also wove into it excellent insights, in context, that, I think, anyone can benefit from. It is both a "self-help" (life improvement) book and an enjoyable tale of her life...so far... It's a bit of a two for one, story plus gaining knowledge - a great combination for me.

I have two book shelves of books related to the brain already, but this is a unique approach pointing to some very useful ways of living and thriving and enriching one's world. I shall add the additional learnings to my website and future writings.

Thank you, Wendy Suzuki, for writing this little masterpiece and for the many, many hours it must have taken to craft this unique blend of the story of your life and what people can take from it and from your indepth study and knowledge about this vital area!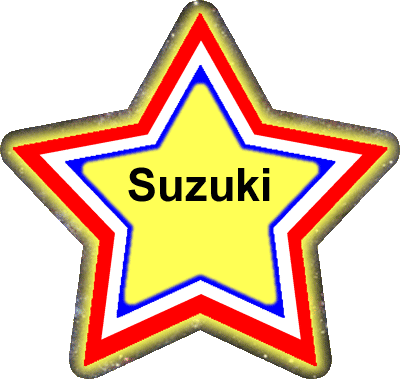 HUMANIST GALAXY OF
SECULAR BRAIN SCIENCE STARS
produced by
Infinite Interactive Ideas™