ALPHABETICAL BRAIN™ VOCABULARY
HUMANIST GALAXY
OF SECULAR SCIENCE STARS
DONALD PROTHERO
June 21, 2021
REALITY CHECK:
How Science Deniers Threaten Our Future
by Donald R. Prothero
Indiana University Press, 2013
(i-xvi, 369 page)

Quote = "The book argues that science deniers pose a serious threat to society, as their attempts to subvert the truth have resulted in widespread scientific ignorance, increased risk of global catastrophes, and deaths due to the spread of diseases that could have been prevented." (Paraphrased by webmaster from publisher's summary)

Quote = "Many people and institutions have exerted enormous efforts to misrepresent or flatly deny demonstrable scientific reality to protect their nonscientific ideology, their power, or their bottom line. To shed light on this darkness, Prothero explains the scientific process and why society has come to rely on science not only to provide a better life but also to reach verifiable truths no other method can obtain. He describes how major scientific ideas that are accepted by the entire scientific community (evolution, anthropogenic global warming, vaccination, the HIV cause of AIDS, and others) have been attacked with totally unscientific arguments and methods." (Paraphrased by webmaster from publisher's blog)

BOOK OUTLINE






note = Numbers in parentheses refer to pages



FOREWORD by Michael Shermer (xi-xiii)

PREFACE AND ACKNOWLEDGMENTS (xv-xvi)

1) REALITY CHECK (1-8)

2) SCIENCE, OUR CANDLE IN THE DARKNESS (9-28)

3) BETRAYERS OF THE TRUTH — SELLING OUT SCIENCE (29-45)

4) MAKING THE ENVIRONMENT THE ENEMY — ACID RAIN, THE OZONE HOLE, AND THE DEMONIZATION OF RACHEL CARSON (46-66)

5) HOT ENOUGH FOR YOU? THE HEATED DEBATE OVER A WARMING PLANET (67-104)

6) GIMME THAT OLD TIME RELIGION — CREATIONISM, INTELLIGENT DESIGN, AND THE DENIAL OF HUMANITY'S PLACE IN NATURE (105-140)

7) JENNY'S BODY COUNT — Playing Russian Roulette with Our Children (141-163) 8) VICTIMS OF MODERN WITCH DOCTORS — AIDS Denialism (164-183)

9) IF IT QUACKS LIKE A QUACK — Snake-Oil Con Artists in an Era of Medical Science (184-206)

10) WHAT'S YOUR SIGN? THE ANCIENT PSEUDOSCIENCE OF ASTROLOGY (207-221)

11) DOWN THE SLOPE OF HUBBERT'S CURVE — The End of Cheap Oil and Natural Resources (222-259)

12) FAR FROM THE MADDING CROWD — Human Overpopulation and Its Consequences (260-286)

13) THE REJECTION OF REALITY — How the Denial of Science threatens us all (287-330)

NOTES (331-356

INDEX (357-369)



AUTHOR NOTES, SUMMARY,
AND BOOK DESCRIPTION




AUTHOR NOTES = Donald R. Prothero is Emeritus Professor of Geology at Occidental College and Lecturer in Geobiology at the California Institute of Technology. He has published 32 books, including Rhinoceros Giants: The Paleobiology of Indricotheres (IUP, 2013); Earth: Portrait of a Planet; The Evolution of Earth; Evolution: What the Fossils Say and Why It Matters; Catastrophes!; and After the Dinosaurs: The Age of Mammals (IUP, 2006). He was the recipient of the 2013 James Shea Award of the National Association of Geology Teachers for outstanding writing and editing in the geosciences.

SUMMARY = The book argues that science deniers pose a serious threat to society, as their attempts to subvert the truth have resulted in widespread scientific ignorance, increased risk of global catastrophes, and deaths due to the spread of diseases that could have been prevented.

BOOK DESCRIPTION = The battles over evolution, climate change, childhood vaccinations, and the causes of AIDS, alternative medicine, oil shortages, population growth, and the place of science in our country, are all breaching a fevered pitch. Many people and institutions have exerted enormous efforts to misrepresent or flatly deny demonstrable scientific reality to protect their nonscientific ideology, their power, or their bottom line. To shed light on this darkness, the author explains the scientific process and why society has come to rely on science not only to provide a better life but also to reach verifiable truths no other method can obtain. He describes how major scientific ideas that are accepted by the entire scientific community (evolution, anthropogenic global warming, vaccination, the HIV cause of AIDS, and others) have been attacked with totally unscientific arguments and methods.


EDITORIAL BOOK REVIEW




LIBRARY JOURNAL REVIEW = Prothero (geology, emeritus, Occidental Coll.; Catastrophes! Earthquakes, Tsunamis, Tornadoes, and Other Earth-Shattering Disasters) broaches a subject that impinges on his (and many other) scientific fields: science denial. The refusal to recognize the realities of science takes many forms, but the underlying modus is the manipulation of facts and statistics to "prove" that mainstream science is incorrect. In thematically arranged chapters, Prothero parries against climate deniers (such as U.S. Senator James Inofe of Oklahoma), antivaccination activists (such as actress Jenny McCarthy), proponents of intelligent design (such as members of the Discovery Institute), etc., calling out and responding to their individual claims against modern science. These figures, he makes clear, are a threat to modern society and to the progression of humans living in balance. Their allegiance to misguided beliefs, their misunderstanding of science and scientific processes, combined with their public stature, make them dangerous, as they have been shown to have convinced significant numbers of people to advocate against the science that makes life safer for all of us. VERDICT Although Prothero includes charts and is very precise in his language, this book is geared to the general reading public. Strongly recommended for popular-science readers who want better to be able to explain and defend science and scientific methods to others.-Rachel M. Minkin, Michigan State Univ. Libs., Lansing

PUBLISHERS WEEKLY REVIEW = Geology professor and prolific author Prothero (Evolution: What the Fossils Say and Why It Matters) takes on the science deniers, including creationists, climate change naysayers, and AIDS deniers. Prothero addresses nine topics for which a segment of the U.S. population rejects well-supported science research and knowledge; for each, he begins with background information and data and then addresses the argumenta of the deniers, providing additional data and references. "As scientists, we must be careful when we use words such as truth' and belief,' because science is not about believing accepted truths, but accepting extremely well corroborated hypotheses about nature that approach truth in the everyday sense." Prothero discusses the impact of corporate and political interests on science, the demonization of Rachel Carson, the credentials of science deniers, the politics of climate change, and the impact of the anti-vaccine movement. He concludes that "the elephant in the room [is]... the stultifying influence of creationism in U.S. science education." Those who hold opposing views may say that he does not break stereotypes about liberal academics; but he does discuss career scientists and academicians addressing why polarization has occurred. Prothero's treatise will give the science-minded something to cheer about, a brief summary of the real data that supports so many critical aspects of modern life.

CHOICE REVIEW = For complex and sometimes inexplicable reasons, science has lost considerable authority in the American public over the past three decades. In a time of unprecedented technological advances, many Americans are still enthralled by ancient pseudoscientific beliefs like astrology and creationism. Even worse, on scientific issues of great social concern, like climate change and ozone depletion, great antiscience conspiracy theories swash through the blogosphere and cable news stations. Prothero (emer., Occidental College), a paleontologist/geologist and prolific author, takes on the "denialists" in various areas, from those noted above to others such as vaccination, quack medicine, and overpopulation. Each chapter is dense with material and references, making the book an effective resource for confronting bad arguments and ignorant (or fraudulent) pseudoscience advocates. Scientists and others familiar with these debates will not be surprised by most of the rhetoric and evidence in this work, but they will find it a convenient compendium. Those new to this culture war on the edges of science are in for many surprises. Summing Up: Recommended. All levels/libraries. M. A. Wilson College of Wooster.


REMEMBER ALWAYS:
You Are Your Adaptable Memory!
Click or Tap Star to Return to Humanist Hub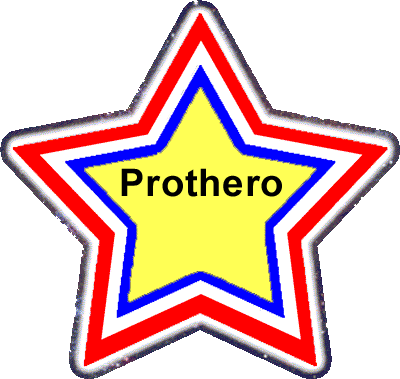 RETURN TO THE HUMANIST HUB
OF SECULAR SCIENCE STARS
ALPHABETICAL BRAIN™ VOCABULARY
produced by
Infinite Interactive Ideas™