ALPHABETICAL BRAIN™ VOCABULARY
HUMANIST GALAXY OF
SECULAR BRAIN SCIENCE STARS
November 3, 2019
TOP BRAIN, BOTTOM BRAIN:
Surprising Insights into How You Think
by Stephen M. Kosslyn and G. Wayne Miller.
Simon & Schuster, 2013
(xi-xiii, 222 pages + illustrations)
BOOK OUTLINE




PREFACE — Why another brain book? (xi-xiii)

note = "Because this one is different.This book offers a new defensible theory of brain functioning and psychology, based on a major anatomical distinction that is frequently overlooked.

We present in this book the 'Theory of Cognitive Modes' that is built on conclusions arising from decades of research that --- for the most part, has remained inside scientific circles. A 'cognitive mode' is a general way of thinking that underlies how a person approaches the world and interacts with other people. To our knowledge, this is the first time that these findings have been systematically brought to a mainstream audience." (xii)

1) A NEW WAY OF LOOKING AT WHAT YOUR BRAIN SAYS ABOUT YOU (1-18)

2) ROOTS OF THE THEORY (19-26)

3) THE DUPLEX BRAIN (27-40)

4) REASONING SYSTEMS (41-56)

5) SWEEPING CLAIMS (57-71)

note = "We have argued that a person's habitual way of thinking arises from the workings of two portions of the brain, the top and the bottom. And we have argued that simple dichotomies cannot adequately explain what these two portions do: They must be viewed as systems --- and systems that work together.

In many ways, the interactions between the top-brain and bottom-brain systems are more interesting and informative than the processing that occurs in each system alone." (page 71)

6) INTERACTING SYSTEMS (73-83)

7) FOUR COGNITIVE MODES (85-93)

8) ORIGINS OF THE MODES — NATURE VERSUS NURTURE (95-106)

9) MOVER MODE (107-121)

10) PERCEIVER MODE (123-132)

11) STIMULATOR MODE (133-144)

12) ADAPTOR MODE (145-155)

13) TEST YOURSELF (157-168)

14) WORKING WITH OTHERS (169-181)

note = "Being One's Own Self: The great French Renaissance thinker Michel de Montaigne observed: 'The greatest thing in the world is to know how to be one's own self'... Montaign implores us each to look within, into our own unique character. Our character arises fundamentally from our brains, steeped in experience.

And each of us should look within not just fleetingly, we would argue, but with a committed and lifelong purpose that can be its own reward. We hope this book will be helpful to you in your own journey of discovery. We hope that the ideas presented in these pages [with these words] will stimulate you to find new perspectives about your self and the people you meet on the way. Montaigne wrote: 'The value of life lies not in the length of days, but in the use we make of them." (pages 180-181)

AUTHORS' NOTE (183-185

NOTES (187-193)

BIBLIOGRAPHY (195-205)

INDEX (207-220)

Behavior
Bottom brain
Brain
Cognitive modes
Cognition
Connections
Consciousness (25, 52)
Coping strategies
Corpus callosum: left brain-right brain theory and, (58-59, 71)
Creativity
Dichotomies
Emotions
Perceiver mode
Perception
Personality
Reasoning/rationality
Renaissance (20)
Senses
Sequencing
Shapes
Spatial information/relations
Speech
Sperry Split Brain Research
Stimulator mode
Temperament
Temporal lobe
Theory of cognitive modes
Thinking fast and slow, Kahneman (53)
Top brain
Top brain-bottom brain system
Verbalizers
Vision
Visualizers
Vividness

ABOUT THE AUTHORS (221-222)


AUTHOR NOTES, SUMMARY,
AND BOOK DESCRIPTION


AUTHOR NOTES = Stephen M. Kosslyn, PhD, is founding dean of the Minerva Schools at the Keck Graduate Institute. He previously served as director of the Center for Advanced Study in the Behavioral Sciences and Professor of Psychology at Stanford University and as the John Lindsley Professor of Psychology at Harvard University, where he also served as chair of the Department of Psychology and dean of Social Science. Stephen has been recognized by election to the American Academy of Arts and Sciences, three honorary doctorates, a Guggenheim Fellowship, and the National Academy of Sciences Award for Initiatives in Research.

G. Wayne Miller is a staff writer at The Providence Journal, a documentary filmmaker, and the author of seven books of nonfiction, three novels, and three short story collections. He is also director and cofounder of the Story in the Public Square program at Salve Regina University's Pell Center for International Relations and Public Policy in Newport, RI. Find him at GWayneMiller.com or on Twitter @GWayneMiller.

SUMMARY = In this groundbreaking contribution to the literature of human personality, a celebrated psychologist and an award-winning author offer an exciting new way of thinking about our minds --- and ourselves --- based on a new way of looking at the brain.

BOOK DESCRIPTION = In this groundbreaking contribution to the literature on human personality, a celebrated psychologist and an award-winning author offer a novel way to learn about how each of us thinks. For the past fifty years, popular culture has led us to believe in the left brain vs. right brain theory of personality types. That theory would be an illuminating idea if it did not have one major drawback: It is simply not supported by science. In contrast, the "Top Brain, Bottom Brain Theory" is based upon solid research that has stayed within the confines of labs all over the world --- until now!

However, the book systematically explains this exciting new theory for the first time. It describes how the top and bottom parts of your brain work together and summarizes the extensive brain research that the theory is based upon with ease and accessibility. In doing so, it introduces four modes of thought called: Mover, Perceiver, Stimulator, and Adaptor.

These ways of thinking and behaving shape your personality. With the scientific test provided in the book, you will be able to quickly determine the modethat best defines your dominant way of thinking. Once you have identified your dominant cognitive mode, you can think about many possible practical applications --- from the way you conduct business to your interpersonal relationships to your lifelong voyage of personal discovery.


PROFESSIONAL BOOK REVIEW


PUBLISHERS WEEKLY REVIEW = The idea that the brain is divided between its two halves, the analytical left and more creative right, seems established as scientific fact. However, Kosslyn, with co-writer Miller, seeks to shift the focus instead towards a top/bottom approach. Much of the author's approach does not propose a discovery of new information but instead a reorganization of the brain's already proven systems. A good part of the book is spent rehashing, and in some cases reinterpreting, previous groundbreaking studies-for example, the famous case of Phineas Gage, who's left frontal lobe was destroyed when an iron rod was driven through his skull-in light of their new model.

The authors organize their framework through four cognitive styles: mover, adapter, stimulator, and perceiver. Here the book's argument shifts from science to social comparison, as each style is demonstrated through celebrity examples, from Stephen Colbert to Michael Bloomberg to Emily Dickinson. At times the foundation of the top-bottom schema seems more semantic than scientific; in fact, the authors confess this, to some extent, when they note that their theories have not yet been tested. Of course, it could be argued that much of science rests on semantics --- in which case, this study is an invigorating thought-experiment on reassembling the brain's dynamic parts!


Click or Tap Star to Return to List: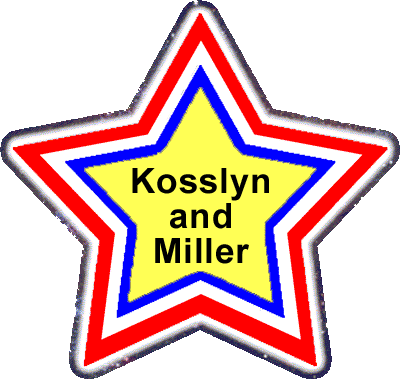 HUMANIST GALAXY OF
SECULAR BRAIN SCIENCE STARS
produced by
Infinite Interactive Ideas™