ALPHABETICAL BRAIN™ VOCABULARY
HUMANIST GALAXY
OF SECULAR SCIENCE STARS
MICHAEL GAZZANIGA
June 20, 2020
CONSCIOUSNESS INSTINCT:
Unraveling the Mystery of
How the Brain Makes the Mind.
by Michael S. Gazzaniga.
Farrar, Straus and Giroux
2018 (274 pages)

BOOK OUTLINE




Quote = "Consciousness unfolding if I ever saw it." selected by Michael S. Gazzaniga as a tribute to Leonardo da Vinci (unpaged at beginning of book)

INTRODUCTION (pages 3-8)

note = "Our minds travel back and forth through time so fluidly" (page 3)

note = It is Gazzaniga's purpose to "illuminate how our exquisitely evolved brain is organized to do its magic. In short, I want to examine how matter makes minds." (page 4)

note = "It is in our nature to think about who and what we are and what it means to be conscious." (page 4)

note = "Why has the quest to understand consciousness been so difficult?...Is consciousness just what brains do?"... While thinking explicitly about consciousness was ignited by Descartes three hundred years ago, two overarching and contradictory ideas — that the mind either is [1] part of the brain's workings or [2] works somehow independently of the brain — have been around seemingly forever. Indeed, these ideas are still with us." (page 5)

note ="Plainly stated, I think consciousness is an instinct." (page 5)

note = In Part 1, the book describes how "most modern thinking has looped back to build on the ideas of the ancient Greeks, and holds essentially the same models, which link the mental and physical inexorably together in one system...new ideas are needed, and this book takes a shot." (page 7)

note = "In Part 2, some modern principles of brain science are introduced ... [about] how neurons produce minds... It is amazing to me how the 'brain as a machine' metaphor, first proposed by Descartes and wholly adopted by most of modern science, has led us to believe that the entire machine is required to perform many of its functions." (page 7)

note = "In fact, we are a confederation of independent modules, orchestrated to work together. To understand how these modules collaborate, we need to know the overall architecture of the system, an architecture called 'layering' that will be familiar with many readers, such as computer scientists" instead of operating like a centralized system to produce consciousness. (page 7)

note = "In Part 3, "the nagging issue at the core of this mind/brain business: how do neurons gin up mind?... There is a... gap between life and inanimate matter, between mind and brain, between the quantum world and our own everyday world. How can those gaps be closed?... physics can help." (pages 7-8)

note = "Finally, I offer a perspective on how the modules, layers, and gaps play out to yield what we call conscious experience... We use the word, 'consciousness' as shorthand to easily describe the functions of a multitude of inborn, instinctual mechanisms such as language, perception, and emotion."

"It becomes evident that consciousness is best understood as a complex instinct... It is as if our mind is a bubbling pot of water. The top bubble ultimately bursts into an idea, only to be replaced by more bubbles... The arrow of time stitches it all together as each bubble comes up for its moment... Read the book to find out for yourself whether you can see it this way too... enjoy your thoughts as they bubble up to the surface of your own consciousness." (page 8)

PART 1 — GETTING READY FOR MODERN THOUGHT (pages 9-79)

1) HISTORY'S RIGID, ROCKY, AND GOOFY WAY OF THINKING ABOUT CONSCIOUSNESS (pages 11-28)

2) THE DAWN OF EMPIRICAL THINKING IN PHILOSOPHY (pages 29-54)

3) TWENTIETH-CENTURY STRIDES AND OPENINGS TO MODERN THOUGHT (pages 55-79)

[] Francis Crick to Modern Science: it's okay to study consciousness (pages 73-79)

note = Crick and Koch (pages 76-78)

PART 2 — THE PHYSICAL SYSTEM (pages 81-152)

note = Evolving a bigger brain (pages 90-93)

note = Advantages of a modular brain (93-95)

note = Going modular (95-96)

note = Use more sub-headings in this chapter (96-103)

note = Where is consciousness? Mutual processing of information by various connected modules (103-106)

4) MAKING BRAINS ONE MODULE AT A TIME (pages 83-106)

note = Where is consciousness? (pages103-106)

5) THE BEGINNINGS OF UNDERSTANDING BRAIN ARCHITECTURE (pages 107-131)

Quote = "There are a great many things about architecture that are hidden from the untrained eye." by Frank Gehry (page 107)

[1] The architecture of the complex (page 109)

[2] The robust, the complex, and the fragile (pages 111-112)

[3] The universal design strategy (pages 112-118)

[4] The neuroscience of layering (pages 118-120)

[5] Evolvable layered systems (pages120-122)

[6] The binds that make it free (pages 122-125)

[7] There are multiple ways to skin a brain (pages 125-127)

[8] From chromosomes to consciousness: a layered architecture (pages 127-128)

[9] Control yourselves! (pages 128-131)

note = Control creates order and precision in a system, preventing it from doing random things. Use rest of paragraph (pages 128-131)

6) GRAMPS IS DEMENTED BUT CONSCIOUS (pages 133-152)

note = References to Anderson and Adolph and Panksepp who argue that an emotion is an unconscious central nervous system state that is triggered by a specific stimulus, whether external or internal (146)

note = Joseph LeDoux has elucidated the fear circuits, which he now calls the "threat circuits." He believes we need a better agreed upon definition for emotional states. (page 147)

note = Facts of neurology (page 150)

[] The ubiquity of consciousness (pages 151-152)

note = "This incessant interplay between cognition and feelings, which is to say between cortical and subcortical modules, produces what we call "consciousness." (page 151)

note = See the rest of the page 151 to complementarity 152 (pages 151-152)

PART 3 — CONSCIOUSNESS COMES (pages 153-237)

7) THE CONCEPT OF COMPLEMENTARITY — The Gift from Physics (pages 155-173)

[] The idea of complementarity (pages 166-173)

note = Use the definition of the "principle of complementarity" and the Bohr vs. Einstein different conclusions about the quantum nature of reality and measuring quantum effects (pages 170-173)

note = Use fact that the new definition of "objectivity" in physics requires an interaction with an observer (pages 172-173)

8) NON-LIVING TO LIVING AND NEURONS TO MIND (pages 175-199)

Quote = "An important stage of human thought will have been reached when the physiological and the psychological, the objective and the subjective, are actually united." by Pavlov (page 175)

[] The genetic code is a real code (pages 187-193)

[] Summing up (pages 196-199)

note = use several sentences to explain the distinction between subjective and objective (page 196)

note = "The explanatory gap has stumped us because the subjective experiences of the mind have resisted being reduced to neural firings of brain matter." (page 197)

9) BUBBLING BROOKS AND PERSONAL CONSCIOUSNESS (pages 201-223)

Quote = "It would be so nice if something made sense for a change." Alice, in Lewis Carroll's Alice's Adventures in Wonderland (page 201)

note = How define consciousness? - use top whole para of page 202 (pages 201-202)

note = "Consciousness is in constant change, a stream... (page 202)

note = The logic of ideas about gaps, modules, and layers and Howard Pattee's "semiotic closure" (page 202)

[1] Two "consciously different" conscious hemispheres! (pages 203-206)

note = "I have to go back to the very first scientific observation I ever made... It was the beginning observation that not only the brain but also the mind had been divided. (pages 203-204)

"It was the seed that led to 60 years of research on the nature of mind and its physical underpinnings. It was also the test that produced the most astonishing observation of all. The left, talking brain did not seem to miss the right brain, and vice versa (page 204)

[2] Tiny bubbles (pages 206-207)

[3] Background for bubbles (page 208)

[4] Bats in the belfry (page 209-)

note = Theory of mind - "The disconnected left hemisphere is unable to take into account the intent of the person...acting as if it did not have a theory of mind." (page 211)

[5] What is it like to be a right hemisphere? (pages 212-213)

[6] Feelings (pages 213-215)

note = "So we have memory bubbles and feeling bubbles." (page 215)

[7] Sentio Ergo Sum (pages 216-218)

note = Several references to Jaak Panksepp who agrees with Pinker [and also Damasio] (pages 216-217)

[8] Methodic or chaotic bubbles? (page 218-220)

[9] A famous control layer malfunction (page 221)

[10] Consciousness enriched by evolution (pages 221-223)

Quote = "One man's 'magic' is another man's engineering." by Robert A. Heinlein, science fiction writer and consultant for movie 2001, A Space Odyssey (page 221)

10) CONSCIOUSNESS IS AN INSTINCT (pages 225-237)

note = refs to Michael Polanyi and his book Personal Knowledge [tacit knowledge] (pages 226-227)

note = "Consciousness is an instinct!"

[1] Looking forward (pages 229-231)

[2] A final word (pages 231-237)

note = use the last para about the way consciousness will be better understood in the future (page 236)

NOTES (pages 239-256)

ACKNOWLEDGMENTS (pages 257-259)

INDEX (pages 261-274)



Selected Topics Highlighted:

Brain
Brain architecture
Brain injuries and discorders
Brain/Mind. see Mind/Brain rel
Brain modules
Bubble analogy
Causality
Cells
Coma
Complementarity
Complex systems
Consciousness
Darwin, Charles
Dennett, Daniel
Deontological vs. Utilitarian thinking
Descartes, Rene
Determinism
DNA
Dualism, duality
Egyptians, Ancient
Emotion
Evolution
Feynman, Richard
Free will
Freud, Sigmund
Gaps
God
Hallucinations vs. delusions
Hebb, Donald
Heisenberg, Werner
Helmholtz, Herman von
Historical ways of thinking about cons
Hobbes, Thomas
Hume, David
Information
Instinct(s)
Intentions of others, understanding
James, William
Knowing, two modes of
Knowledge
Koch, Christopher
Language
Laws of motion
Layered architecture
Learning
LeDoux, Joseph
Life
Light
Locating oneself in space
Locke, John
Locked in syndrome
Machine(s), brain as, etc
Measurement
Mechanism
Memory/Memories
Mind, attention and, etc
Mind/Body Dualism
Mind/Body problem
Mind/Brain gap, explanatory gap
Mind/Brain relationship
Minsky, Marvin
Modules; Brain, see Brain modules
Molecules
Natural selection
Nature
Nervous system
Networks, structual vs. functional
Neurons
Newton, Isaac
Nucleotides
Objectivity
Pain medicine
Panksepp, Jaak
Parallel processing
Past; emotions and the past
Penfield, Wilder
Personality, and brain damage
Phenomenal consciousness
Phenotypes
Philosophy, philosophers
Physics
Pinker, Steven
Plato
Polanyi, Michael
Popper, Karl
Posner, Michael
Pragmatism
Primates
Psychology
Quantum mechanics
Raw feelings
Reason
Reductionism
Reproduction and replication
Religion
RNA
Rules vs. laws
Saliance
Schizophrenia
Schopenhauer, Arthur
Schrodinger, Erwin
Science
Self
Self-identity in Alzheimer's disease
Semiotics
Sensorimotor processing
Sensory informastion
Sherrington, Charles
Skills
Sleep
Soul
Sperry, Roger
Spinoza
Split-brain patients
Stimulus-response psychology
Stroke
Subconscious, see unconscious
Subjectivity: consciousness
Symbols
Tabula Rasa ["blank slate"]
Through the Looking-Glass [Carrol]
Time
Tool use
Unconscious (44-49); etc
Unconscious states: coma
Utilitarian vs. deontological thinking
Visual system
Volta, Alessandro
Von Neumann, John
Wave-particle duality
"What is an Instict?" by Wm James
Will; Shopenhauer on will
Willis, Thomas
Wolpert, Daniel
Wundt, Wilhelm
Young, Neil

AUTHOR NOTE, SUMMARY,
AND BOOK DESCRIPTION




AUTHOR NOTE = Michael S. Gazzaniga, one of the premiere doctors of neuroscience, was born on December 12, 1939 in Los Angeles. Educated at Dartmouth College and California Institute of Technology, he has been on the faculty of the Center for Neuroscience, University of California, Davis and UC Santa Barbara. His early research examined the subject of epileptics who had undergone surgery to control seizures. He has also studied Alzheimer's and Parkinson's patients and reveals important findings in books such as Cognitive Neuroscience: The Biology of the Mind.

While many of his writings are technical, he also educates and stimulates readers with discussions about the fascinating and mysterious workings of the brain. Books such as The Social Brain and The Mind's Past bring forth new information and theories regarding how the brain functions, interacts, and responds with the body and the environment. – Bowker Author Biography

SUMMARY = "The father of cognitive neuroscience" illuminates the past, present, and future of the mind-brain problem.

BOOK DESCRIPTION = How do neurons turn into minds? How does physical "stuff" — atoms, molecules, chemicals, and cells — create the vivid and various worlds inside our heads? The problem of consciousness has gnawed at us for millennia. In the last century there have been massive breakthroughs that have rewritten the science of the brain, and yet the puzzles faced by the ancient Greeks are still present. In book, the neuroscience pioneer Michael S. Gazzaniga puts the latest research in conversation with the history of human thinking about the mind, giving a big-picture view of what science has revealed about consciousness.

The idea of the brain as a machine, first proposed centuries ago, has led to assumptions about the relationship between mind and brain that influence scientists and philosophers to this day. Gazzaniga asserts that this model has it backward — brains make machines, but they cannot be reduced to one.

New research suggests the "brain is actually a confederation of independent modules working together." Understanding how consciousness could emanate from such an organization will help define the future of brain science and artificial intelligence, and close the gap between brain and mind. The book is captivating. It makes accessible insights drawn from a lifetime at the forefront of the subject of neuroscience.


EDITORIAL BOOK REVIEWS




PUBLISHERS WEEKLY REVIEW = Bolstered by a background in neurobiology and human psychology, Gazzaniga (Tales from Both Sides of the Brain), director of the SAGE Center for the Study of the Mind at UC Santa Barbara, adopts a philosophical approach in this insightful book-a "fresh attempt to wrestle with" the question of consciousness and the relationship between brain and mind. Gazzaniga posits that "consciousness is an instinct" and that the brain is a relatively independent, adaptable, and flexible system of local modules organized in a layered architecture, cohering through more integrative modules at a higher level. By discussing an array of substantial brain injuries throughout the book, he demonstrates that modules have the ability to mediate their specific functions as well as participate in the emergent property of subjective experience.

Gazzaniga details how the understanding of human consciousness progressed; he examines the ideas of such philosophers as Aristotle, Descartes, David Hume, and William James, and shows where the centuries-long struggle to find the seat of consciousness has floundered. He also refreshingly grounds the work in real experimental data, revealing himself to be an intelligent mental explorer and master syncretist. Gazzaniga's accessible, well-organized arguments are bound to provoke deep metathoughts, and readers should find his treatise delightful.

BOOK LIST REVIEW = Nothing if not daring, Gazzaniga attempts a task that has long frustrated philosophers and scientists: namely, that of explaining human consciousness. Himself a distinguished neuroscientist, Gazzaniga starts by dispelling a misconception traceable back to Descartes, who viewed the human mind as a spiritual ghost in a biological machine. Despite ever-increasing neurological sophistication in explaining the brain's biochemical machinery, the ghost of consciousness still eludes scientific explanation and will continue to do so.

Gazzaniga insists, researchers need to recognize in the relationship between brain and mind the same kind of complementarity that quantum physicists discern in a single subatomic entity manifesting two quite different identities. Readers can experience such a complementarity harmonizing of the biology of the brain's neurons with the meaning-laden symbols of the mind's thoughts in a stream of consciousness that flows through the "multilayered modules" of the cerebrum.

It may surprise readers to learn how this "seamless stream originates as disparate bubbles of consciousness" instinctively welling up in the various regions of the brain. This is a rare opportunity to probe the frontiers of neurological inquiry.-- Christensen, Bryce


Click or Tap to Return to Humanist Hub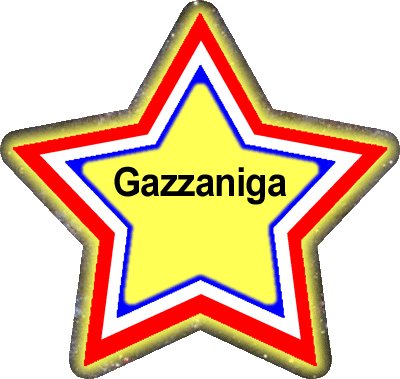 RETURN TO HUMANIST HUB
OF SECULAR SCIENCE STARS
produced by
Infinite Interactive Ideas™