ALPHABETICAL BRAIN™ VOCABULARY
HUMANIST GALAXY OF
SECULAR BRAIN SCIENCE STARS
December 15, 2019
KINDS OF MINDS:
Toward an Understanding
of Consciousness
by Daniel C. Dennett.
Basic Books, 1996 (184 pages)
BOOK OUTLINE




PREFACE (vii-xiii)

1) WHAT KINDS OF MINDS ARE THERE? (1-18)

2) INTENTIONALITY — The intentional systems approach (19-53)

3) THE BODY AND ITS MINDS (57-80)

4) HOW INTENTIONALITY CAME INTO FOCUS THE TOWER OF GENERATE-AND-TEST (81-117)

note = use "Tower of Generate and Test" definition (page 83)

5) THE CREATION OF THINKING (119-152)

note = use pages to describe how words make concepts in our minds (pages 151-152)

6) OUR MINDS AND OTHER MINDS (153-168)

FURTHER READING (169-173)

note = use list of authors and titles for authentication of ideas (170-171)

BIBLIOGRAPHY (175-180)

INDEX (181-184)

Animals: Automatic or Unconciousness activity of (13-14)
Autonomic nervous system
Beliefs
Children
Churchland, Patricia
Churchland, Paul
Circulation systems
Communication
Control systems
Dawkins, Richard
Damasio, Antonio
Evolution
Glutamate molecules
Intentionality
Intentional stance
Intentional systems
Intrinsic intentionality
Language
Minds - anticipation of the future
Natural selection
Nervous selection
Reinforcent
Robots
Self-consciousness
Sentience - animal-body maintenance systems
Synapses
Talking - acknowledgment of mind-havers
Transducers, in nervous systems
Unconscious thinking Words


AUTHOR NOTE, SUMMARY,
AND BOOK DESCRIPTION




AUTHOR NOTE = Daniel C. Dennett is University Professor and Austin B. Fletcher Professor of Philosophy at Tufts University. In addition to this book, he is the author of numerous other influential books including Intuition Pumps and Other Tools for Thinking, Breaking the Spell, Darwin's Dangerous Idea, and Consciousness Explained.

SUMMARY = Daniel Dennett combines ideas from philosophy, artificial intelligence, and neurobiology to lead the reader on a fascinating journey of inquiry. He explores such intriguing possibilities as: Can any of us really know what is going on in someone else's mind? What distinguishes the human mind from the minds of animals, especially those capable of complex behavior?

BOOK DESCRIPTION = If such animals, for instance, were magically given the power of language, would their communities evolve an intelligence as subtly discriminating as ours? Will robots, once they have been endowed with sensory systems like those that provide us with experience, ever exhibit the particular traits long thought to distinguish the human mind, including the ability to think about thinking? Dennett addresses these questions from an evolutionary perspective. Beginning with the macromolecules of DNA and RNA, the author shows how, step-by-step, animal life moved from the simple ability to respond to frequently recurring environmental conditions to much more powerful ways of beating the odds, ways of using patterns of past experience to predict the future in never-before-encountered situations. Whether talking about robots whose video-camera "eyes" give us the powerful illusion that "there is somebody in there" or asking us to consider whether spiders are just tiny robots mindlessly spinning their webs of elegant design, Dennett is a master at finding and posing questions sure to stimulate and even disturb.


PROFESSIONAL BOOK REVIEWS




PUBLISHERS WEEKLY REVIEW = Dennett (Darwin's Dangerous Idea), director of the Center for Cognitive Studies at Tufts University, avers that language is the "slingshot" that has "launched [humans] far beyond all other earthly species in the power to look ahead and reflect." In this brief study, some of which is drawn from notes for the author's various lectures, and which returns him to some of the themes of his controversial bestseller, Consciousness Explained (1991), he explores how the human mind came into existence. Along the way, he investigates such questions as, How does the mind work? Can we know another person's mind? Can a woman know what it is like to be a man (and vice versa)? What are nonhuman minds like? Could a robot ever be "conscious"? Philosopher that he is, Dennett continually raises and refines his questions about these and other subjects, attempting to tease us closer to understanding. By the end of the book, he confesses, he has not so much presented answers as found better questions to ask. Though some readers may be put off by Dennett's cocksure tone, others will be rewarded by his witty, intelligible speculation.

BOOK LIST REVIEW = Dennett's clear essay belies philosophy's reputation for abstruseness, something better confined to insular university departments than let loose in public libraries. A popular but serious writer (Consciousness Explained, 1991, and Darwin's Dangerous Idea) Dennett should easily convey his logic about consciousness to the curious with this companionable inquiry. His key concept to discerning consciousness is "intentionality," defined as the something that something is "about," whether it's a molecule that replicates itself, or a John Doe whose purpose is to elude the police. Somewhere across that spectrum of "aboutness," mind comes into existence — is it with bugs? frogs? dogs? robots? — and with such creatures Dennett illustrates what he theorizes makes a mind. That brings up sentience. Many creatures seem to think, like the dog that identifies its human owner from the universe of humans, but Dennett doubts that it — or any creature without language — can reflect on such an act of identifying. Reading like a one-on-one conversation, this intimately written piece should tap the widespread wonder about consciousness. – Gilbert Taylor.

CHOICE REVIEW = Dennett's new book is in the distinguished tradition of his previous volumes. He deftly poses philosophical questions that reflect on the nature of minds of other creatures in contrast to our own. Into this process he brings an evolutionary perspective that is in the best of Darwinian and ethological traditions, without doing injustice to psychology. A few of his particular and timely concerns are questions regarding morality related to thinking in complex animals and robots, and the distinguishing attributes of humans. From his previous successful book on natural selection he imports the models of "Darwinian," "Skinnerian," "Popperian," and "Gregorian" creatures through which he makes powerful arguments for the evolutionary stage that led to an adaptive emergence (contra S.J. Gould's views) of human language, conversing with the self, and culture while retaining our evolutionary heritage. Dennett's ability to entertain while making the reader think about uncomfortable questions makes him one of the great educators. Highly recommended. General, undergraduates through faculty. F. S. Szalay CUNY Hunter College.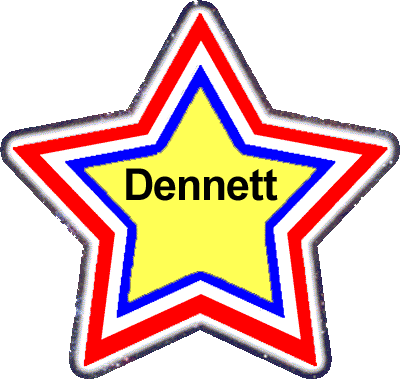 HUMANIST GALAXY OF
SECULAR BRAIN SCIENCE STARS
produced by
Infinite Interactive Ideas™