ALPHABETICAL BRAIN™ VOCABULARY
HUMANIST FAMILY BRAIN STUDY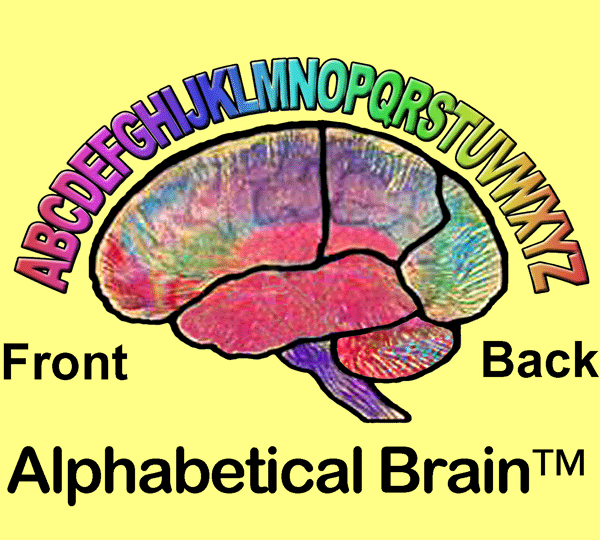 LEARN THE 15 BRAIN IDEAS FAST
September 23, 2018




Knowing how your brain works is essential if you want to thrive in the future. The main purpose of this Alphabetical Brain™ Vocabulary website is to help you understand how your brain works in the most efficient way possible. This website is designed to provide you with the most accurate descriptions of current scientific knowledge about your brain's structures and your mind's functions.

By learning the new brain information, you will be expanding your self-awareness and changing your self-identity as you become a more enlightened science-oriented humanistic person. You can even use the new brain knowledge, which explains how your adaptive and dynamic consciousness is produced by your mind's fine-tuned self-organized memories, to develop a modern 21st century philosophy of life for your future growth.

The word neuroplasticity is often shortened to "plasticity" by brain scientists and science journalists to refer to the evolutionary human brain's ability to "change itself by itself" even when asleep. This phenomenal plasticity process is the reason that your mind can make you free to think for yourself and develop your own creative self-identity.



CIRCLE OF CONSCIOUSNESS SYMBOLŠ



This new scientific approach to understanding human nature and human behavior involves the development of both your general vocabulary and your specialized brain vocabulary. The new vocabulary for understanding your brain's physical structures and your mind's mental functions describes the holistic nature of 15 new brain ideas in their dynamic interactive relationships.

The alphabetical way of organizing information was the primary way that human beings invented to provide the maximum brainpower needed to manage civilized thoughts and feelings. The profound role that the alphabet and language skills have played in human history is described in the "Details about Human Consciousness" file at the Index to this website.

The quickest way to get a new perception of the relationship between your brain and mind and a new perception of the source of your conscious self-awareness is to explore the following four paired diagrams of the Circle of Consciousness SymbolŠ, which identify the dynamic interactive relationships that exist among the 15 brain ideas explored on this website:


CIRCLE OF CONSCIOUSNESS SYMBOLŠ
THE NAMES OF THE 15 BRAIN IDEAS
OUTSIDE YOUR AMAZING BRAIN
TAP, CLICK or SWIPE:
TO MOVE THE NAMES OF THE 15 BRAIN
IDEAS INSIDE YOUR CONSCIOUSNESS



MEANING OF THE CIRCLE OF
CONSCIOUSNESS SYMBOLŠ


The Circle of Consciousness SymbolŠ represents a simplified holistic view of the global connectivity necessary for human consciousness to exist.

It was created to convey a powerful visual image of the previously unimaginable coalescence of the many diverse and interactive physical structures of your awesome self-manifesting holistic brain. Your evolutionary brain's dynamic and malleable mental functions include your creative mind's ability to reason, remember, and imagine.


instantly go to:
DETAILS ABOUT THE CIRCLE
OF CONSCIOUSNESS SYMBOLŠ









By deliberately repeating this learning process several times, you can consolidate and retain the new brain information in your long-term memory system.

The new brain facts and ideas can help you establish what is real and what is fake about the abundant choices you have to make in our advanced digitized global high-tech society. By avoiding useless social behaviors and treating dangerous addictive habits, you can create enough time to make plans to achieve your most passionate and fulfilling goals.



ALPHABETICALLY ARRANGED
BRAIN VOCABULARY



You can take a quick look at the complexity of your brain structures and mental functions at the alphabetically arranged list of definitions of the 15 new brain ideas that deal with your memory systems and emotional control systems. All of these brain ideas provide you with a complete modern linguistic context of meaning for understanding your own brain and the brains of others.

The following Brain Glossary is a handy tool to remind you of the comprehensive linguistic context of brain ideas of which the 15 brain ideas are the core part. They are marked in BOLD RED in the list of hundreds of important brain vocabulary words at the following link:


instantly go to:
BRAIN GLOSSARY




The unique emphasis of this website is on the connected relationship between your working memory system, located in your prefrontal cortex, and your long-term memory system, located in your hippocampus. The educational focus provides a new practical way for you to think about your own brain's phenomenal power to understand how your adaptive brain and creative mind can work together to transform your subjective self-awareness into your objective self-identity --- without the need for divine influence.

In summary, the 15 basic brain ideas provide a comprehensive scientific linguistic context for understanding the major influence that your vocabulary and language skills have on the scope of your self-awareness and your self-identity. You can learn the new brain knowledge fast and use it to solve everyday problems and even overcome traumatic experiences by understanding how your memory systems work.

Remember: "the best way to predict the future is to create it!" That phrase can become your new personal mantra or meme for the daily pursuit of happiness and success.



CLASSIC BRAIN KNOWLEDGE



You can quickly review 18 brain images on three charts that depict the classic brain knowledge that all children learn in grade or middle school and teenagers learn in more detail in high school science classes. The two mini-brain charts and one mini-brainstem chart provide you with the 18 names and definitions of the classic 18 brain structures and functions of your brainstem and both sides of your brain: your Left Hemisphere and Right Hemisphere.

There are six named brain images on each chart and additional charts with six unnamed brain images for you to use to learn the basic universal facts about your brain's physical structures and your mind's mental functions. They were organized to provide you with the easiest way to apply the most powerful learning technique known, which is the "spaced-repetition" method of memorization.

The following link provides easy access to the classic brain information that has been known for many years but updated with remarkable new discoveries during the U.S. government's Brain Initiative of the past few years:


instantly go to:
CLASSIC BRAIN KNOWLEDGE




By focusing your attention on the 15 major brain ideas on this website in the context of the classic brain knowledge, you will be creating a powerful intellectual foundation for all of your future choices and decisions. Both the older classic brain knowledge and the 15 new brain ideas can provide you with the most important up-to-date brain information.

You can do a lot to restore or improve your cognitive functions and to take advantage of the opportunities of living in the most advanced democratic society in the history of humanity. However, in addition to knowing the new brain vocabulary, you must be prepared to deal with the menacing mass media and social media pressures to conform to their commercial demands to "hurry up and buy things!"

Advertisements assault your brain every moment of every day and night with overwhelming distractions and temptations to buy things. But this is precisely the kind of immense challenge that your brain has evolved to conquer! You can learn how to avoid many of the persistent ads by mindfully (consciously) turning them off!



USE YOUR MEMORY SYSTEM WISELY



After you have memorized the brain ideas and learned to manage your thinking habits, you will be able to organize your long-term memories by choosing realistic categories of subjects or "chunks" of data with which to store appropriate new memories. You can strengthen your own sense of reality and satisfy your own personal needs by using critical thinking skills and critical reading strategies as you study and apply the new brain ideas in your life.

You can change a memory by "editing" it with your prefrontal cortex, since all memories are "constructed" and "re-constructed" every time you become conscious of them again. That is because present social circumstances provide a new social context for the mental process of "re-framing" them. This happens automatically, if you are aware of this power of your mind, because of the new situational awareness that you are engaged in at the moment in which you recall a memory.

Also, you can boost memory retention by writing or typing notes and by using the spaced-repetition method of memorization to create a personal immersive multisensory learning environment inside your brain through creating optimistic attitudes and self-talk that reinforces the brain ideas and their interactions.



QUICK REVIEW



With proper study, the new brain facts and ideas can become a part of your declarative memory circuit in your long-term memory system, whose triggers are in the hippocampus part of your limbic system.

Then, your working memory system, in your prefrontal cortex, can use the new factual memories about your brain's structures and your mind's functions to augment your creative imagination and enlarge your conscious self-awareness.

By using reliable critical thinking skills and critical reading strategies, you can make better plans to achieve your goals.

In addition to the organized information on this brain website, there will be more information at the Alphabetical Brain™ App, which will be launched soon to provide more evidence of the validity and relevance of the 15 brain ideas and their interactions.

The diagrams will also appear on separate pages in an Amazon print-on-demand book that will be published this year with the title DISCOVER YOUR ALPHABETICAL BRAIN You will learn how the new brain science explains consciousness, free will, happiness, and success based upon evolutionary biology and modern humanism.


Printable PDF Form
LEARN THE 15 BRAIN IDEAS FAST
RECOMMENDATION:




You may print this pdf version and read it. You can underline or highlight the important new brain ideas with colors to save them in your long-term memory. Then, edit the text to personalize it and read your edited version of these ideas according to a reinforcement schedule, such as in a few minutes, and then in a few hours, and then several times in the next week or two to take advantage of the power of the spaced-repetition method of memorization. You will be able to use them in your deep introspective thinking about your self-identity and feel them in your self-awareness.


NOTE: See the 15 major brain ideas, which include your: working memory #1, neurons #2, dendrites #3, axons #4, nucleus #5, glial cells #6, synapses #7, potentiation #8, connectome #9, plasticity #10, cerebral cortex #11, prefrontal cortex#12, limbic system #13, pleasure circuit #14, and your long-term memory #15 at the List of 15 Free Brain Flash Cards link on the website INDEX.

instantly go to:
WEBSITE INDEX
produced by
Infinite Interactive Ideas™